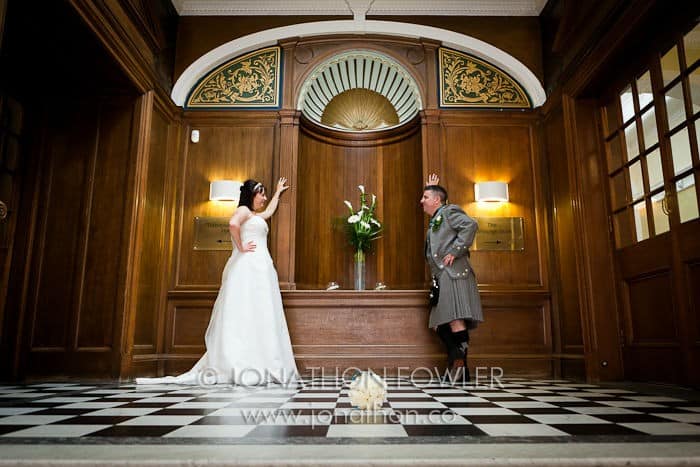 On Saturday I had the pleasure of photographing Elaine and Jonathan's Edinburgh Napier University wedding photos.
The day started with me travelling to Elaine's mum's house in Livingston, where I photographed the Bridal preparations. The weather at this point was quite sunny, so I had my fingers crossed it would stay dry to allow me to shoot a few of the wedding photos outdoors.
After an hour with Elaine, I headed back to Edinburgh to await the arrival of Jonathan at Craighouse, which is part of Edinburgh Napier University. Jonathan is from down south, so it was great to see an Englishman dressed in full Highland kilt outfit for his wedding day! Good on Jonathan for the effort!
Unfortunately, by the time Elaine arrived at Craighouse, it had started to rain and stayed that way for the rest of the day. So, unfortunately, no outdoor wedding photos. But no worries, as this great wedding venue offers lots of fantastic indoor space and backdrops to allow gorgeous wedding photos to be taken. The rainy weather just means a change of backdrop for each wedding photo. I am very pleased with the results and took a number of photos which we wouldn't have had time to capture had the weather been kinder.
It was great fun to meet, chat with and photograph so many of the guests. I was fortunate enough to sit at a table for the wedding breakfast, and spent a bit of time chatting with a lovely married couple, one of whom presents news for a French TV channel, and her husband who edits news films! Even on a break, I love to chat about cameras and editing!
My day ended with me photographing the evening reception until the end of the first three dances. A really special day with a really lovely couple. Congratulations to Elaine and Jonathan, it's going to be wonderful seeing your photos in your own wedding album.
Edinburgh Napier University Wedding Photos
Here's a peek at a few of Elaine and Jonathan's Edinburgh Napier University wedding photos.