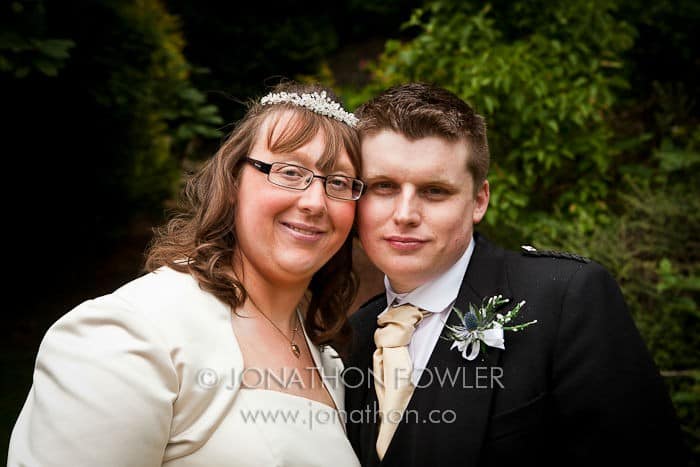 What a great time I had being Amanda and David's Bridge of Allan wedding photographer. Amanda and David were married at the Royal Hotel in beautiful Bridge Of Allan, Stirlingshire.
This was my first ever Bridge Of Allan wedding, it's certainly a lovely part of Scotland to be in.
Amanda and David booked me to cover everything from Bridal preparations before the ceremony, right through until the dancing in the evening. The girls were good fun to photograph as Amanda as they were pampered and enjoyed a wee glass of bubbly before the wedding ceremony.
The weather was a bit dull and overcast to start with though, fortunately, it stayed dry enough to allow a few outdoor pre-ceremony photos of David and the boys outside The Royal Hotel.
Amanda looked gorgeous in her wedding dress and so happy as she walked down the aisle. Groom David was relaxed before the ceremony and he was grinning once Amanda was standing by his side. Clearly, Amanda and David are made for each other and looked so happy and so in love.
The wedding ceremony was a pleasure to photograph, with the newly-weds looking really happy as they had their first kiss as husband and wife.
By late afternoon, it was really sunny and all the guests were able to enjoy their drinks outside in the glorious sunshine.
The speeches took place before the wedding breakfast, this was great fun to be photographing as there was a roller-coaster of emotions during this part of the day. I captured lots of smiling, laughing and tears. I really enjoy these moments, this is what photographing weddings are all about.
I stayed to take photos of the first few dances in the evening. A truly great wedding day at a lovely venue, lots of fun to be part of it!
Amanda will have no problem getting used to her new surname – her maiden name is McDonald, her new surname is MacDonald!
Congratulations to the lovely Mr and Mrs MacDonald, I hope you have an amazing 3 weeks in Florida, I am really looking forward to seeing your photos in a gorgeous wedding album!
Here's a small selection of photos from this wonderful Bridge Of Allan wedding day.
Bridge of Allan Wedding Photographer