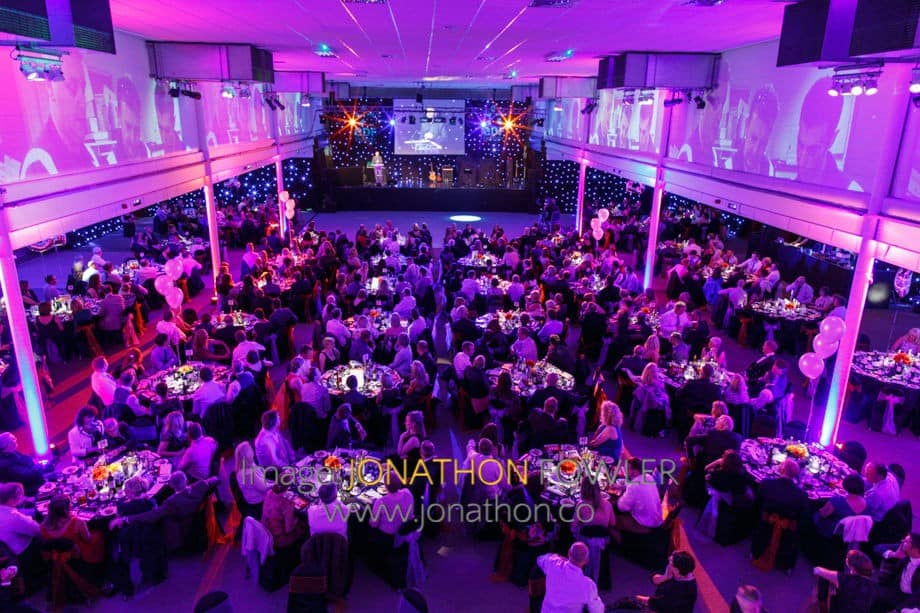 We recently had the pleasure of providing our party photographer service at a birthday party celebrating 25 years of operation at EDF Torness nuclear power station.
As the leading party photographer in Edinburgh, we were a natural fit for the EDF Energy brief, to document the event with photos capturing the details of the occasion.
East Lothian's nuclear power station marked 25 years of low carbon generation in May, just days after I photographed the opening of its brand new visitor centre.
This was the largest event we've ever photographed. The party was held at the Edinburgh Corn Exchange. Several hundred EDF Torness employees enjoyed an evening consisting of a welcome reception, three-course sit-down dinner, entertainment and dancing. There was also a guest appearance from two members of Team GB Olympic 2012 medallist Gemma Gibbons and Paralympic medallist Sam Ingram.
The party was hosted by Dougie Donnelly, a well-known Scottish television broadcaster best known for presenting sports coverage for BBC Scotland.
Through photos and memorabilia, staff also had the chance to reminisce about the last 25 years.
The evening was also a great opportunity to raise funds for the company's newly nominated charity, the Marie Curie Cancer Trust. EDF Energy Community Liaison Officer Ashleigh Dickson said: "We managed to raise an amazing £3815, which will be match-funded by EDF Energy, bringing the total that will go to support Marie Curie Cancer Trust's great work to £7630. I'm really proud of our staff and this is a great start for our new Charity of the Year."
The first prize in the raffle was won by Jane Boylan, who won first prize in the raffle – a trip for two to Paris!
A fantastic evening was clearly enjoyed by all, and well done to everyone for raising so much money for such a worthy cause.
Torness – 25 years
• The station has generated 200 terawatts of low-carbon power since starting production in 1988.
• This has avoided around 130 million tonnes of CO2 emissions – equivalent to removing all the vehicles from the entire UK's roads for two years.
We'd like to share some of our favourite photos of this special event. Please do get in touch if you're looking for a party photographer in Edinburgh and the Lothians.
Party Photographer Gallery
Here are a few of our favourite photos showcasing our work and this marvellous event.