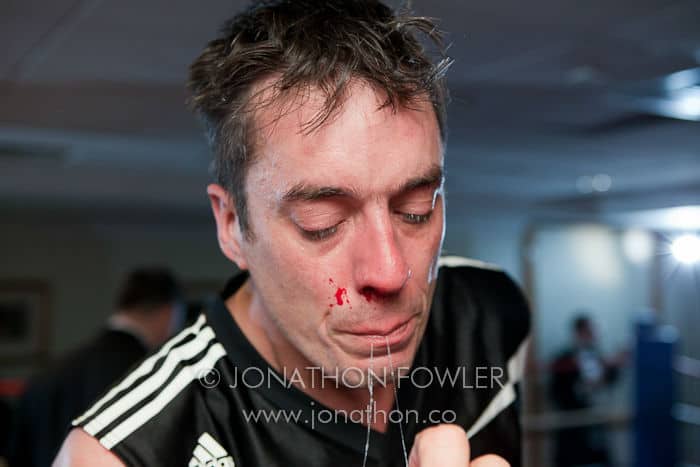 I was recently asked if I would be interested in providing my Edinburgh event photographer services to photograph and help generate interest in a forthcoming charity event. As this was a fundraising event for several noble causes, I was definitely interested and didn't hesitate to offer my services free of charge.
The charity event was held at the prestigious Dalmahoy Hotel and Country Club, Kirknewton. The Dalmahoy is one of the venues at which I regularly provide my Edinburgh event photographer services, though usually, I'm photographing weddings, not taking photos of boxing!
Around two hundred guests attended this all ticket event. The guests were welcomed with a glass of champagne and invited into the spacious Dalmahoy function suite. The centrepiece of the room was a massive boxing ring! The format of the event was 'a bout of boxing between meal courses'. This was capped with a charity auction, including a football signed by the Manchester United football team, a pair of world champion Joe Calzaghe's boxing gloves and various other items sporting memorabilia.
I wasn't sure quite what to expect when working as an Edinburgh event photographer at this event. All the boxers are amateurs, so I kind of expected to see lots of pushing and shoving and holding onto the opponent. I couldn't have been more wrong! These guys really went for it! As I was the official Edinburgh event photographer I had one of the best views in the room. I was allowed to stand on the edge of the ring and took plenty of photos of the action as it unfolded. You can view lots of the event photographs below.
The aim of the night was to raise as much money as possible for the nominated charities. The evening raised over £16,000 for the various charities, a really fantastic figure.
I received a copy of the newsletter sent out by one of the charities and was pleased to see some of my Edinburgh event photographer images appearing in print. The guys who did the boxing all suffered on the night, but what got them through was the thought of many people benefiting from the funds raised.
Well done guys, a great night and some cracking bouts which allowed me to create quite a few memorable photos.
Next time I'm working as an Edinburgh event photographer at Dalmahoy Hotel and Country Club, I'm confident it won't be quite the same as this!
Edinburgh Event Photographer
A few of my Edinburgh event photographer images from this wonderful evening.