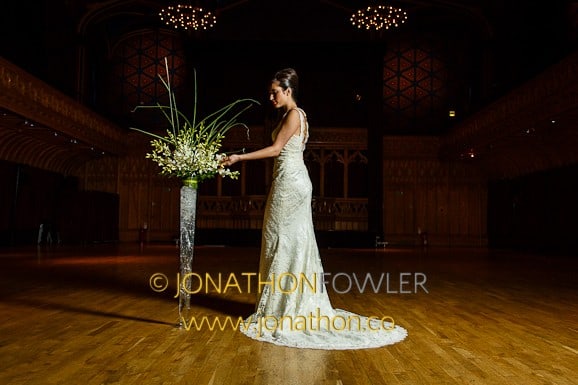 As a commercial photographer Edinburgh I'm spoilt for choice when asked to choose a location for creating commercial photos with impact. My favourite locations tend to be those which are a little bit different, or have that certain 'wow factor', helping to create unique photos for each client.
I was asked to shoot commercial photographs for top Edinburgh bridal wear shop La Novia. The brief was simple. "We'll supply the dresses and model, you find a suitable location and deliver stunning images". I immediately thought of The Hub at the top of the Royal Mile in central Edinburgh. I had photographed Siobhan and Lee's wedding day there last year, and we captured lots of stunning wedding photos in and around The Hub. So a quick call to Kathryn at The Hub and we were kindly allowed the use of this wonderful venue for a couple of hours.
Make-up artist Sharon Irving of Made-Up and hairdresser Vicky of VM Hair were asked to make beautiful model Ivona 'look like Katharine Hepburn'. I think they did a wonderful job. It's quite normal for brides to wear very natural make-up for their wedding, this is beautiful to the naked eye, but can almost disappear in a wedding photo or wedding video. I loved Ivona's bold make-up, it really worked well for this photoshoot.
Indoors we shot various poses on the wonderful staircase of The Hub. The deep blue carpet and scarlet walls are an amazing contrast to the light coloured wedding dresses. We also utilised the main hall at The Hub and took advantage of flowers that remained from the previous day's wedding. The interior photos were deliberately created to be dark, moody and atmospheric.
The weather wasn't great when we first arrived, with showers soaking the streets. However, the rain stopped after a wee while, so it was time to venture out onto the Royal Mile and see what photos we could create.
The Royal Mile was busy, even considering The Festival hasn't started yet. I asked Ivona to pose right in the middle of the street. I love my hometown's architecture, the cobbled streets and old buildings framing Ivona nicely. We had quite an audience watching the photo shoot. It was good fun creating these commercial photos.
This was a great commercial photographer shoot in Edinburgh city centre. I look forward to more wedding photography at The Hub. A massive thank-you to all the staff at The Hub who were a pleasure to work with.
Commercial Photographer Edinburgh – Photo Gallery
I'd like to share a small selection of the photos from my photoshoot.