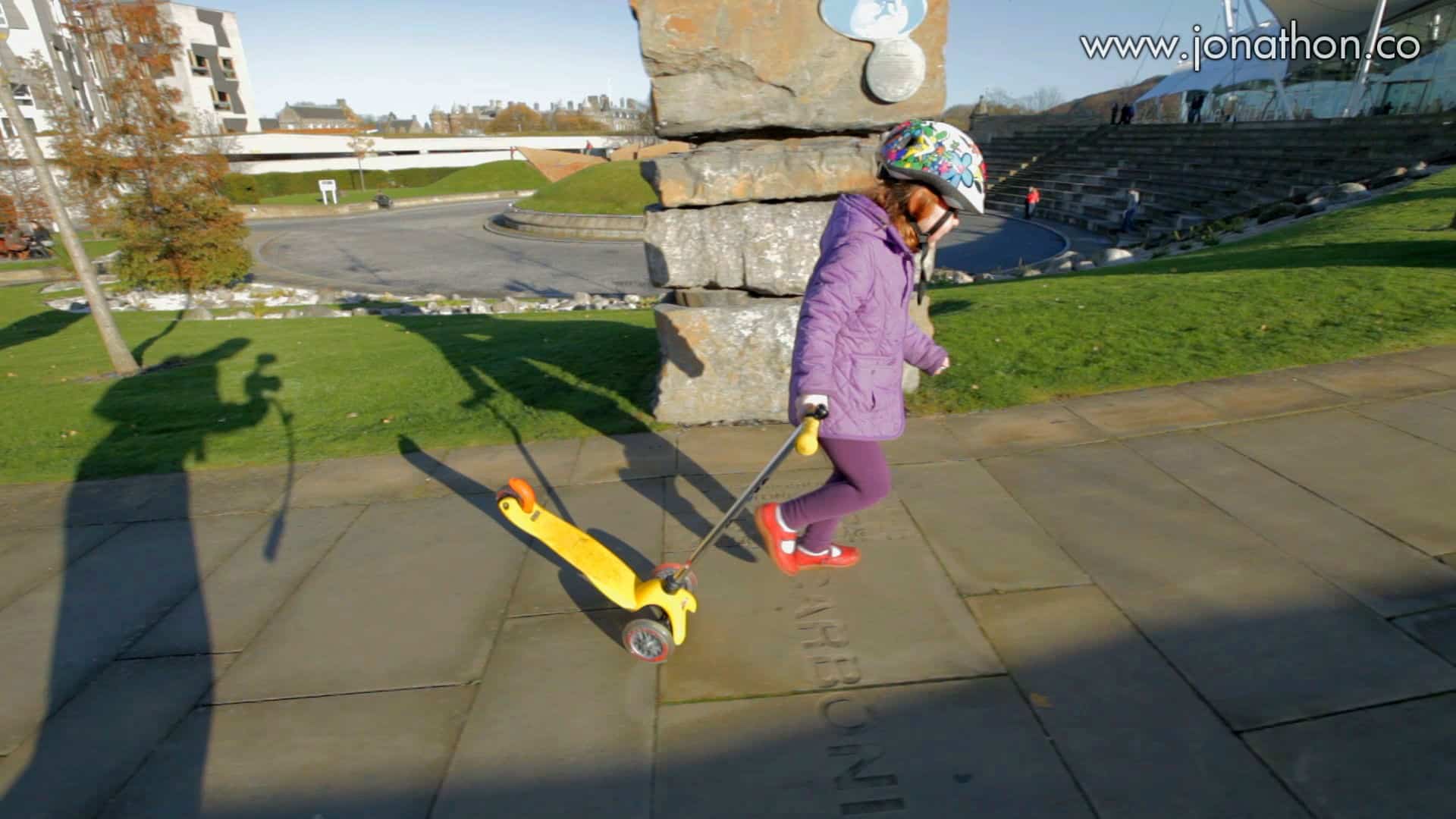 This is a short Steadicam video I made showing my beautiful 3-year-old daughter Anabelle playing on her Mini Micro scooter.
For this Steadicam video, Anabelle led the way, all I had to do was chase and follow her while filming her, much to her amusement!
The Steadicam video footage was shot outside The Scottish Parliament and Our Dynamic Earth visitor centre, both located in Edinburgh, Scotland.
This Steadicam video was created using a Canon 5DMK2 camera, a Canon 16-35mm L USM II lens at 16mm, a Rode Videomic Pro and a Steadicam Merlin stabiliser.
I usually use this equipment to film Scottish weddings. It was a bit of a challenge to chase a 3-year old who was riding a scooter. Running forward meant that the Rode Videomic Pro caught the air like a sail. The challenge was to keep the Steadicam straight and pointing at the correct angle to keep Anabelle nicely framed. Not as easy as I thought it would be! I'm pleased with the result, though. I think I've captured how much fun we had shooting this short film and Anabelle's personality really comes through well. She's a cheeky little monkey and always so much fun!
Not bad for a first non-wedding attempt, definitely easier to film a wedding than it is to chase Anabelle on a Scooter! When creating Scottish wedding videos I would use the Steadicam to shoot various parts of the day. The Groom and Bridal Party arrivals. The wedding recessional (newly-weds walking down the aisle). The grand entrance to the wedding breakfast. The newly-weds first dances. The first dances would be the longest sequence of shots, with one camera filming the dances, a second camera filming the wedding band. Much more interesting to watch than static shots created when filming from a fixed position tripod!
**Update – since this film was created, Anabelle outgrew the scooter, it was passed to her younger sister Emilia, who has also moved onto a 'big girl's scooter. Now my little boy Joshua has the scooter and it is still working perfectly. I highly recommend these scooters – they're certainly built to last!
Steadicam Video Edinburgh