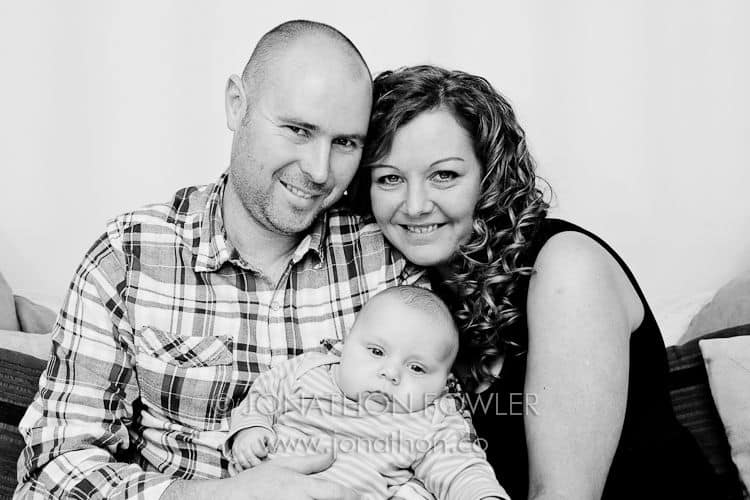 I recently had the pleasure of spending a couple of hours providing my family photography services for Lynne, Murray and baby Aaron. Baby Aaron is way too cute!
For families with babies, I would usually come to you and shoot photos of your family in the comfort of your own home.
For families with toddlers and older children, I can come to your home or we can visit your favourite outdoor location. The most important thing to consider is making sure everyone is comfortable. As you'd expect, grumpy babies do not like having their photos taken and can often look anything but angelic! So deciding where to shoot your family pictures is the first decision you should make. For baby photography, the comfort of being in your own home works best and is included in the price of my services.
On a sunny day, you may prefer to pay a visit to your favourite park or beach. I would shoot candid photos of everyone. Typically walking hand in hand, smiling at each other and generally having fun. This outdoor candid photography is sometimes referred to as 'lifestyle photography'. This style of photography means I capture gorgeous candid and spontaneous photos of your family as they have some fun.
For colder seasons your home may be a more comfortable option. Indoor photography is usually a little bit more formal than shooting outdoors, but we still have fun and keep things nice and relaxed.
For photos taken in your home, I would use my small studio lighting set-up to ensure your photos are perfectly lit. This is a more formal and traditional portrait style of photography, which involves more direction from me. I still like to ask you to interact with your loved ones, and with a baby, this is straightforward, as seen in baby Aaron's photos. This will mean a good selection of family photos are taken.
Please contact me to have a chat about family photography. All of your photos are supplied via digital download. High quality, competitively priced quality prints, canvases and albums of your family photos are also available to purchase.
Here's a small selection of the photos taken during baby Aaron's photoshoot. Enjoy!
Family Photography – Baby Aaron