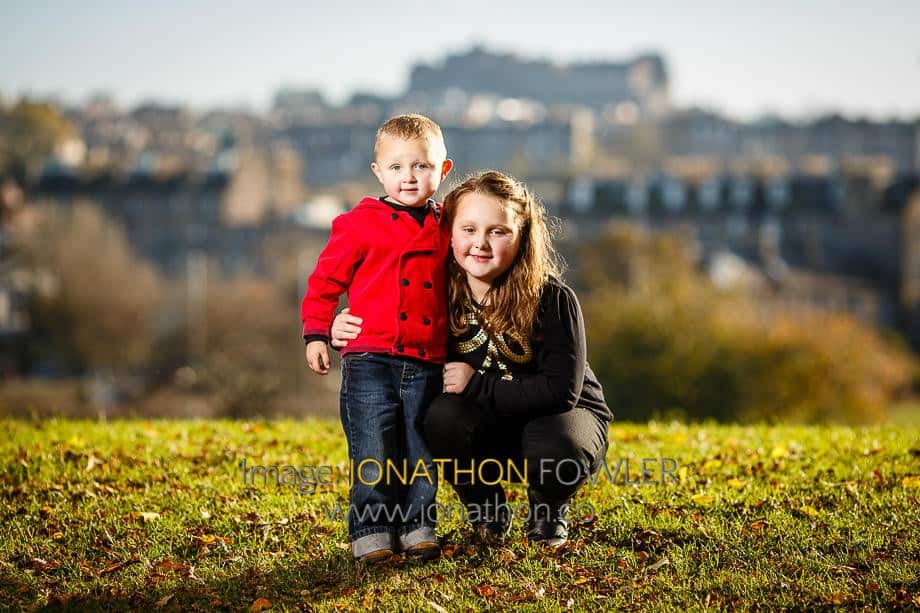 As an experienced family portrait photographer, it was great to be asked to do a family photo shoot again. I've been privileged to work with many fun families. I really love capturing the fun and interaction of kids. I'm Daddy to two young girls and a little boy, and one of the most enjoyable things I know is watching them play and have fun. Capturing those moments on camera is really special and a skill I love to use to enable other families to look back on these magical moments for years to come.
Recently I had the pleasure of shooting photos of Liam and Taylor. We arranged to meet at Inverleith Park in Edinburgh, a fantastic place for family photography sessions. I also regularly meet newly-engaged couples there for our pre-wedding photo sessions. Inverleith Park has lots of space for kids to run around, a boating pond where kids can feed the birds, and a swing park where kids can play.
Here on this page, I've included a few of my favourite photos from our family photo shoot. The kids were great fun to be around, happy to run around at Inverleith Park and pose when asked. We spent around an hour together, which was enough time for me to create around forty beautiful and unique family photos.
I can also create studio-style family portraits in the comfort of your own home, though my advice to you is if the weather is reasonable you should head outdoors and let your kids run around and have fun. The end result is usually more unique, fun and colourful than studio family portraits. A good example of this is the photos of Liam and Taylor playing in a big pile of leaves. The expressions on the children's faces were priceless! Taking advantage of a huge pile of leaves at Inverleith Park was one of those spur of the moment opportunities not to be ignored and really captured the playfulness of the children.
Check out my family portrait prices, I would love to have a chat and discuss the options with you.
Family Photo Shoot at Inverleith Park