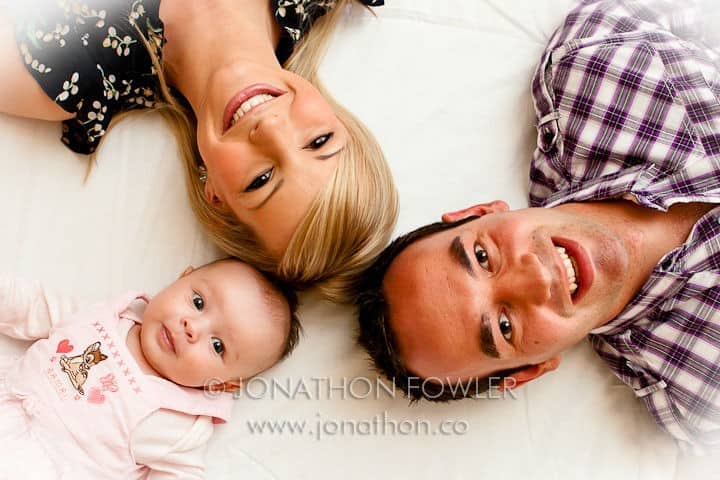 As an experienced baby photographer, I can tell you these family photo shoots are always great fun. I recently had the pleasure of a baby photographer photography session for the lovely Fiona, Ross and their beautiful wee baby Lily.
For families with babies, I would typically come to you and do the family portrait session shoot in the comfort of your own home.
Photography for babies works well when I come to your home to shoot the photos. Being in a warm, comfortable and familiar environment is key to a successful photo session. I would typically spend around one hour with your family. This is usually enough time to capture a good range of photos. What I'm trying to capture is the spirit and character of your family. Cheeky smiles, affection and the love of your family for one another is what makes every photo unique.
For families with toddlers or older children, you may prefer to head outdoors for our photo shoot. A trip to your favourite park or beach always works well. I can capture beautiful family photography which is natural and spontaneous. You'll really appreciate this when you see your photos.
If the Scottish weather isn't great, we can shoot your photos indoors. I have a range of portable studio flashes and lenses which enable our photo shoot to go ahead almost anywhere. A favourite shot is known as 'high key' photography. This is where I shoot your photos against a white vinyl backdrop and use portable studio flash units to light the scene. This style of photography is really popular with clients and can be set up in most family homes. I can also provide a darker feel to your photos by using less light in addition to a black background – 'low key photos'.
Please contact me to find out more about my family photography collections. Pricing starts at just £350 for a family photo shoot. All collections include the option to purchase photo prints and include high-resolution JPEG images as standard. I can print your photos on paper or canvas at a range of sizes from postcard to poster.
Baby Photographer Photos