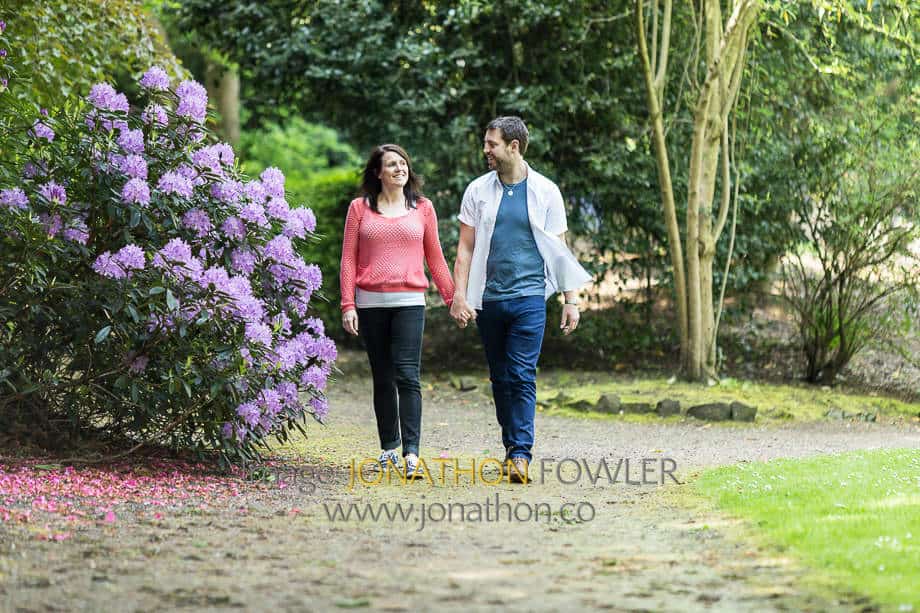 Jennifer and Troy's engagement photo shoot at Queen Street Gardens was this wonderful couple's opportunity to experience having their photos taken before they got married. Usually, we would do the engagement photo shoot around about 2 months before the wedding day. This timescale is usually ideal as it's not so long before the wedding day that the couple forgets what we discussed, and not so close to the wedding day that they are stressing about fitting the shoot into their busy schedule.
Jennifer and Troy's engagement photo shoot took place a few days before their wedding at the wonderful George Hotel on George Street in Edinburgh. Jennifer and Troy live in Australia, and time was of the essence as they didn't have the luxury of being able to come to Edinburgh before their wedding day. So we decided to do our pre-wedding photo shoot here at Queen Street Gardens and if the weather is reasonable we'll also shoot the newly-wed photos here on their wedding day.
I've done many photo shoots in Queen Street Gardens. It's a wonderful place, a beautiful oasis of greenery surrounded by busy roads and the hustle and bustle of city centre life. The perfect place to get away from it all during your busy wedding day and capture a few beautiful photos of the newly-weds. The location is extremely useful if you are getting married at The George Hotel, as Queen Street Gardens is a 5-minute walk away and offers a great alternative to the interior backdrop of the hotel.
Engagement Photo Shoot Gallery
This gallery of photos shows Jennifer and Troy during their pre-wedding photography shoot at Queen Street Gardens in Edinburgh city centre.
Some of my favourite photos of Jennifer and Troy are shared here. Since I created this post, Jen and Troy were married – you might also enjoy a peek at Jennifer and Troy's George Hotel wedding photos, too.