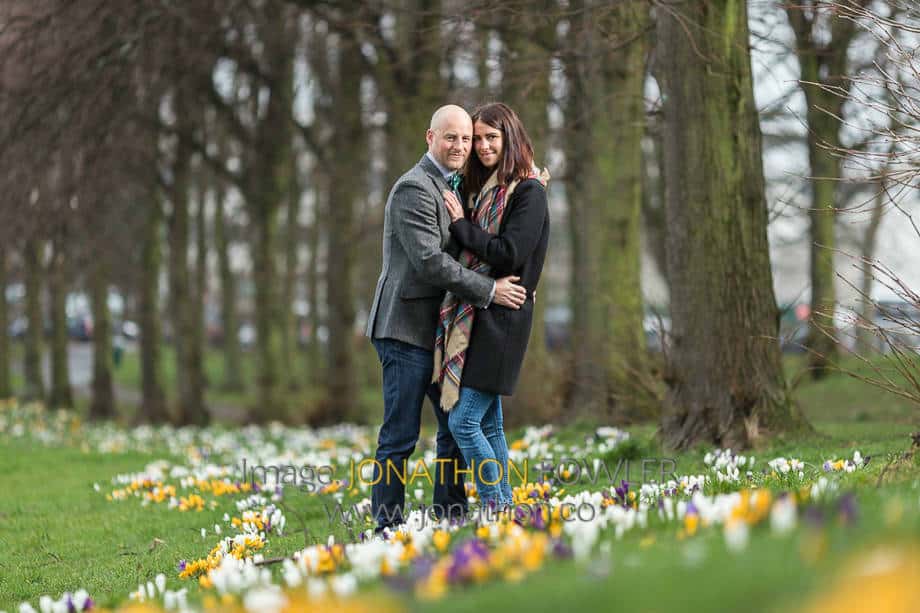 As Colin and Sarah's engagement photographers Edinburgh it was a pleasure to meet this wonderful couple for a photo shoot at Edinburgh's Inverleith Park.
Inverleith Park is one of my favourite places for creating photos in Edinburgh. There is lots of space with some fantastic views across the city centre to Edinburgh Castle. Importantly it's not too busy, even at weekends. This is great, as it can take a wee while for a couple to become accustomed to having your photo taken, and the relative tranquillity of Inverleith Park certainly helps my clients to relax.
I met Colin and Sarah at the entrance on Arboretum Road, directly opposite the entrance to the Royal Botanic Garden Edinburgh. Our photography session began by shooting a few photos of the couple as they walked hand-in-hand along the lengthy tree-lined avenue.
Colin and Sarah looked happy, relaxed and without a care in the world. All of my photos are a combination of natural, unposed photos combined with a few semi-posed photos. Nothing unusual or which might cause a couple to be embarrassed or conscious of being watched by curious onlookers!
Colin and Sarah are getting married in a few weeks in the beautiful Kingdom of Fife, at Kinkell Byre, near St Andrews. From our engagement photography session, I've no doubt that Colin and Sarah's wedding will be a very special day, with lots of wonderful personal touches to make their day totally unique.
Colin and Sarah were good fun to be around and came across as totally relaxed on camera. I can't wait for their wedding day in a few weeks!
Engagement Photographers Edinburgh Inverleith Park Gallery
Shared below are a selection of our favourite photos from Colin and Sarah's pre-wedding photoshoot at Edinburgh's Inverleith Park.
If you like these photos you should also check out Colin and Sarah's wedding photos, created a few weeks after these pre-wedding photos.