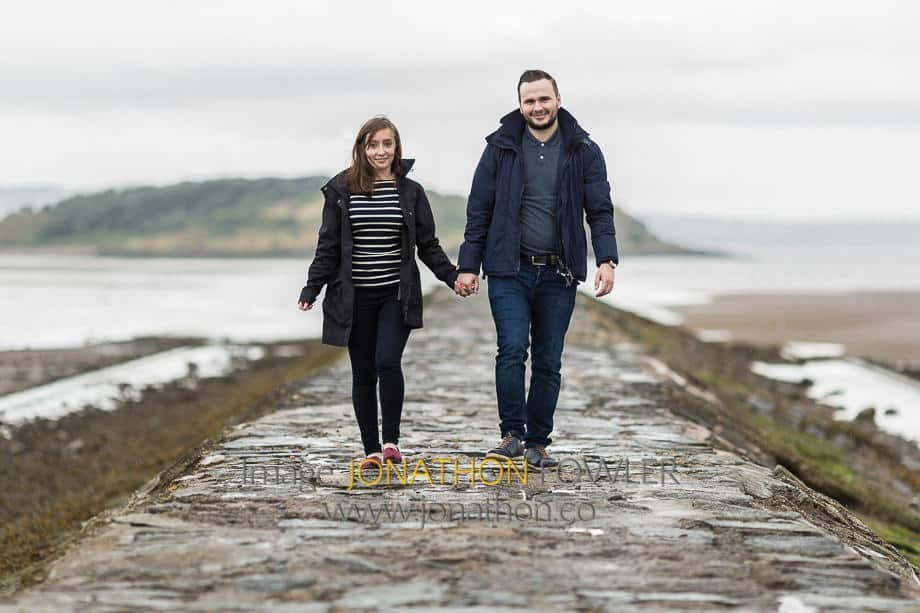 Gary and Sarah's couple photography session was the perfect opportunity for this delightful couple to meet me and experience a professional photo shoot before their wedding day. Gary and Sarah are getting married at 100 Princes Street in Edinburgh city centre. 100 Princes Street is a wonderful wedding venue offering a fantastic location in the heart of Scotland's capital city, with some of the best views of Edinburgh Castle and Princes Street Gardens.
When meeting a couple for their couple photography session I like to meet somewhere chosen by the couple. Gary and Sarah love Cramond, a small village on the northern edge of Edinburgh, right on the Firth of Forth. Cramond offers a beautiful beach, a busy little harbour and a causeway out to Cramond Island (beware, the causeway is covered by the tide twice a day, so it's important to check the local tide timings if you plan to venture out to Cramond Island!).
Gary and Sarah have enjoyed many romantic walks along the seafront at Cramond, so they felt this would be a great location to have a few photos taken during our couple photography session.
This was the wettest day I've experienced for a pre-wedding photo shoot, but Gary and Sarah braved the weather and we managed to shoot a good selection of fun and striking photos. Only two things can ruin an outdoor photoshoot – bad clothing and bad equipment. We were all suitably wrapped up for the photo session, and my photography equipment is perfectly capable of standing up to the worst the Scottish weather can throw at us!
Since our couple photography session at Cramond, Gary and Sarah were married at 100 Princes Street in Edinburgh city centre. You might also enjoy viewing Gary and Sarah's wedding photos right here.
You might also be interested in seeing other similar location photo shoots throughout Edinburgh.
Couple Photography Session Gallery
The photos in this gallery show a few of my favourite photos of Gary and Sarah during their couple photography shoot at Cramond.