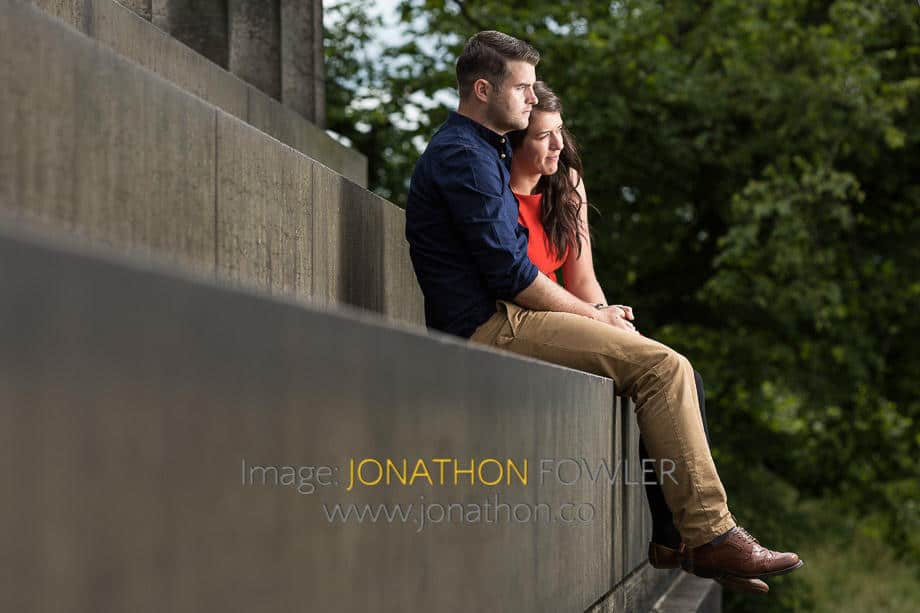 Diane and Robert's couples photography session took place a few weeks before Diane and Robert were married at beautiful Balbirnie House Hotel in Fife. Robert and Diane travelled to Edinburgh for this pre-wedding 'engagement' photo shoot.
Diane and Robert asked me to recommend a place to meet for the photo shoot. Diane and Robert ideally required somewhere with easy access, fairly close to Edinburgh city centre and also offering nice views and backdrops for the photos. Calton Hill ticks all of the boxes and we agreed to meet there.
Calton Hill offers some really magnificent views of Edinburgh and is home to one of Edinburgh's most iconic monuments, the National Monument (to the Napoleonic Dead).
I enjoy shooting photos of people on Calton Hill, especially for people who don't come from or reside in Edinburgh. Calton Hill offers visitors a brilliant way to find their bearings in the city. Up here on Calton Hill, you can see across the entire city, to the Pentland Hills in the south and across the river Forth to the Kingdom of Fife and beyond to the north. On a day with decent weather and good visibility, you can see North Berwick Law, a hill located about 20 miles to the east of Edinburgh.
The most recognisable viewpoint is probably Edinburgh Castle, always an impressive backdrop for a photo of the couple. A photo session on Calton Hill typically takes about an hour. I try to provide a varied range of photos, using the different viewpoints and backdrops to offer the couple an interesting and colourful selection of photos.
**Since I wrote this blog post, Robert and Diane were married at Balbirnie House Hotel in Fife. You can read about, and view pictures of, their wedding day at Balbirnie House Hotel right here.
Couples Photography Session Gallery
The gallery of images displayed below shows Diane and Robert together as we enjoyed a couple of hours shooting photos at Calton Hill in the centre of Edinburgh.