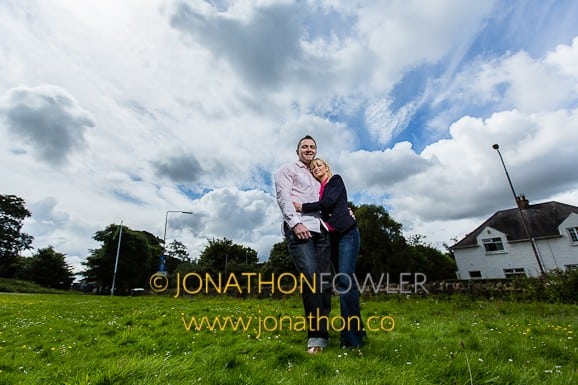 Charles and Kim were getting married in Edinburgh and took up my offer of engagement photography at Corstorphine Hill. We arranged to meet up on Corstorphine Hill to the west of the city. This provided a great opportunity to get to know each other a bit better and shoot some gorgeous photos.
An engagement photography session is also known as a pre-wedding photoshoot, an 'e-shoot', a 'couple's shoot' and various other terms. These titles all mean the same thing, ensuring you experience a photography session with your professional wedding photographer before your wedding day arrives!
Corstorphine Hill was a useful location for this photography session as it's close to Charles and Kim's wedding venue, The Capital Hotel.
Charles and Kim were great fun to be around and were happy to allow me to guide them during our photo session. Most of the poses we shot worked really well. More importantly, we discovered which poses didn't work. Kim is shorter than Charles and we found that Charles didn't look comfortable if the shot involved bending or kneeling to bring his head level with Kim. This is great to find out during the pre-wedding photo session, as it means we can adapt the poses to ensure what we photograph on the wedding day looks natural and relaxed.
We know what poses look great and work really well, meaning our time together on the wedding day will be really productive and enjoyable. And that's exactly how any photo session it should be!
If you are getting married and would like to take advantage of our special pre-wedding photoshoot offer, please get in touch to check availability, we'd love to hear from you.
Charles and Kim's Engagement Photography At Corstorphine Hill
I'd like to share a few of my favourite photos from our pre-wedding photoshoot at Corstorphine Hill.