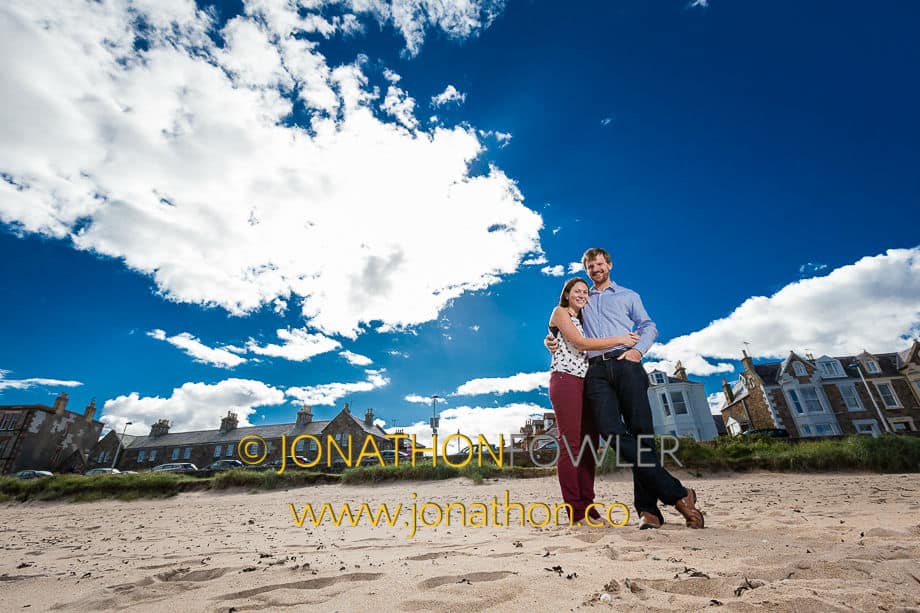 Katie and Tom are a lovely couple who travelled from Bristol to meet me as their engagement photographer In North Berwick. I usually do the photoshoot in Edinburgh, however, sometimes it's more convenient for my couples if we meet elsewhere. Katie is originally from North Berwick in East Lothian, so we agreed to do our photography session while Katie and Tom were visiting family in North Berwick. Katie and Tom were married at beautiful Dunglass Estate in Berwickshire.
Why do a pre-wedding photoshoot? I like to ensure my clients have no worries about any aspect of what I do on their wedding day. My favourite way to do this is with a pre-wedding photoshoot. This involves meeting my couples for a couple of hours before their wedding day and creating some brilliant photos of the couple.
North Berwick is a beautiful seaside town about forty minutes drive from Edinburgh. I've spent many summer days in North Berwick, and already had a good idea of the kind of photos I wanted to shoot for Katie and Tom. With a beautiful beach, the imposing Bass Rock in the background and a nice little harbour, I knew we were going to create a varied range of unique 'wow factor' photos.
Fortunately, the weather was perfect for a photo session; nice and sunny, with a few clouds to help create a more dramatic sky. I spent a nice and relaxed couple of hours taking lots of gorgeous photos of Katie and Tom. Their wedding day was only a few days away, and our time together taking photos was well worth it. On the wedding day we wasted no time at all during our time together, a direct result of the time we spent together during our photoshoot in North Berwick.
I currently have a special offer for my wedding photography customers, where and I'll provide you with an engagement photoshoot completely free of charge!
Engagement Photographer In North Berwick
I'd like to share a few of my favourite photos from Katie and Tom's photoshoot in North Berwick. You might also be interested in viewing their wedding at Dunglass Estate.