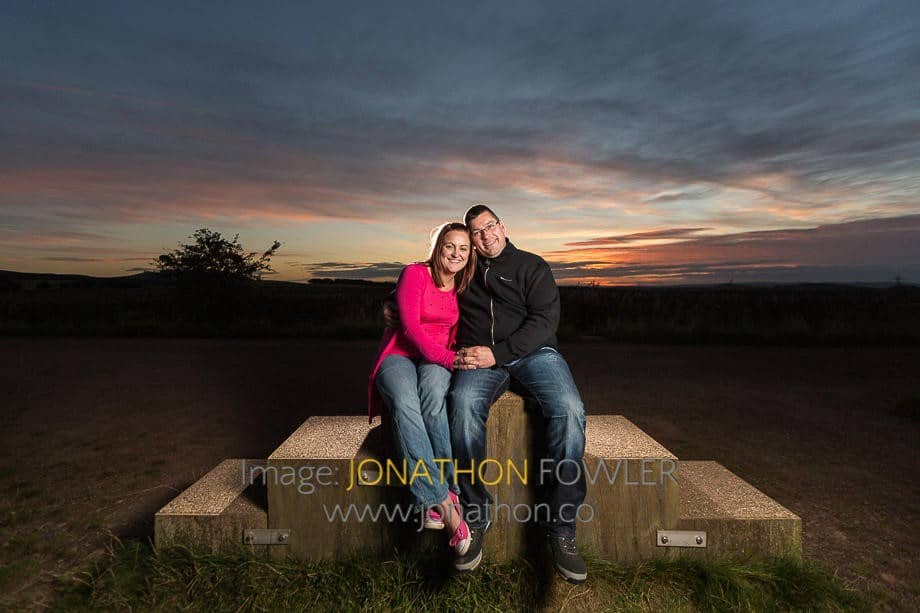 Lynsey and Keith's couple photography was their first professional photoshoot and a 'practice run' before they marry at the Edinburgh Conference Centre at Heriot-Watt University on the outskirts of Edinburgh.
The pre-wedding photo shoot took place at Harlaw Reservoir near Balerno, to the west of the City of Edinburgh. This beautiful and tranquil location is part of the Pentland Hills and was the perfect setting for couple photography. We arrived early in the evening and the weather was ideal. The sun was just starting to set, the sky was clear and the sunset was a beautiful backdrop for some of our photos.
Harlaw Reservoir is a manmade reservoir originally designed to capture water from the surrounding hills and to feed the water into the Water Of Leith. Edinburgh's mills were powered by water from the Water Of Leith, hence the importance of Harlaw Reservoir to Edinburgh and its industry.
Nowadays the reservoir is enjoyed by thousands of people as a great place to go for a walk and enjoy the peace and tranquillity it offers both locals and city-dwellers. The combination of reservoir, hills and woodland walks mean there was plenty of beautiful locations and backdrops for our couple photography.
A few of the photos from today's couple photography shoot were created using a special 'tilt-shift' lens. This unusual lens allows the 'focal plane' of the image to be adjusted. Usually, the focal plane lies parallel to the camera sensor, with a tilt-shift lens I can adjust the focal plane to allow a different perspective in the photo. See if you can spot which photos were created using the tilt-shift lens!
I hope you enjoy these Harlaw Reservoir pre-wedding photos, they were a joy to create and I can't wait to show you a selection of my favourite photos from Lynsey and Keith's wedding day!
Couple Photography Gallery Of Photos
Below are a few of my favourite images created during my couple photography shoot with Lynsey and Keith.
**You can now also see Lynsey and Keith's wedding photos at the Edinburgh Conference Centre.