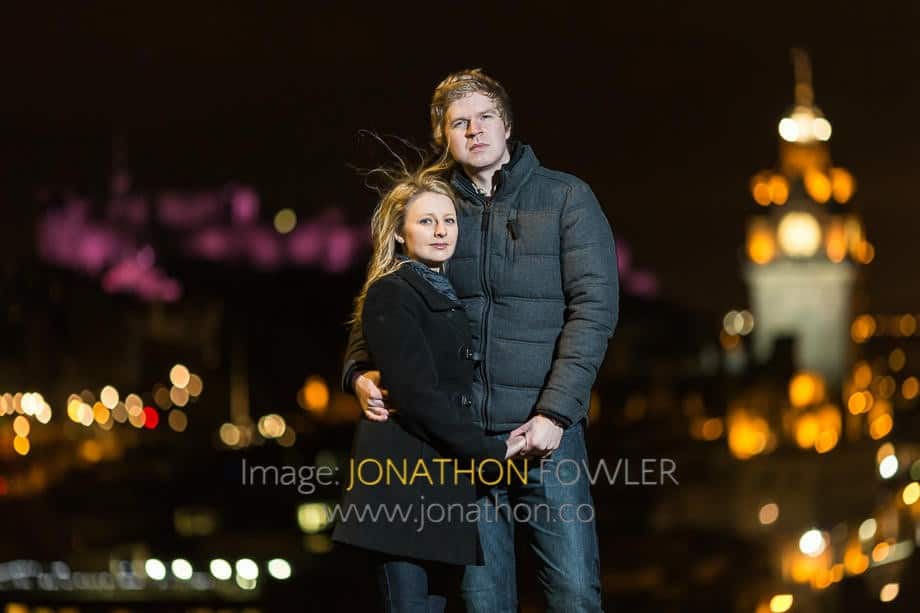 Andrew and Nicola's Edinburgh engagement photography was shot in and around the dark and windy streets of Scotland's capital city. Andrew and Nicola have chosen to marry at the beautiful The Vu wedding venue near Bathgate, West Lothian, and wanted to experience having professional photos taken before their wedding day arrived.
This photo gallery displays Andrew and Nicola during our Edinburgh engagement photography shoot in Edinburgh's city centre. Our photo shoot started at St. Andrew Square, then moved along to Princes Street, The Dome on George Street and finished on top of a very dark and windy Calton Hill.
St Andrew's Square was a good place to photograph the couple, as there was a special temporary exhibition of light called Field of Light, by Bruce Munro, on display, which was a wonderful backdrop for some of the photos at the start of our shoot.
We took a walk along Edinburgh's main shopping street, Princes Street, where the street and traffic lighting gave a gorgeous glow to the photos as our couple walked together.
This was technically one of the trickiest photo shoots I've ever done. On top of Calton Hill, it was so dark, with very little ambient light, that it was difficult to compose and focus each photo. A little bit of help using the torch on my phone helped the camera to focus. Perseverance paid off, with some striking photos of the windswept couple with the out-of-focus city lights twinkling in the background. The use of the torch app on my mobile phone came in really useful, it was so dark on Calton Hill!
What a great shoot and nice to do it at night for a change. It was cooled and windy, but well worth the time and effort to get these great photos.
**Since these photos were taken Andrew and Nicola were married at The Vu in Bathgate, West Lothian.
Edinburgh Engagement Photography Gallery Of Photos
Here's a few of my favourite photos of Andrew and Nicola's Edinburgh pre-wedding shoot.