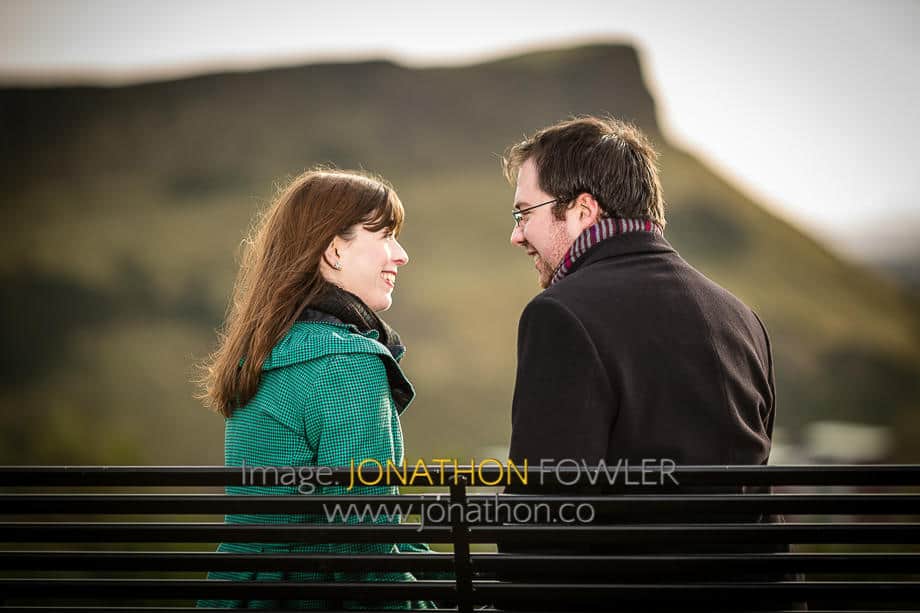 As part of our wedding photography service, we can offer an engagement photography session to our couples. We'd love to provide an engagement photography session to you as it can greatly enhance your wedding photography experience.
Very few couples have been centre stage in a professional photographic shoot. My pre-wedding photoshoot offers clients the chance to find out what's involved before their wedding day.
For couples booking our top wedding collection which includes two photographers, we have a special offer where Jonathon provides you with an Engagement photography session completely free of charge. This popular option is well worth taking advantage of, as you receive a great selection of high-quality photos. As a bonus, the experience is always relaxed and good fun!
I'll soon be covering the wedding of Carolyn and Chris. This lovely Edinburgh-based couple are getting married near Aberdeen at Meldrum House Hotel and took up the offer of a pre-wedding photoshoot. Calton Hill in Edinburgh is a fantastic location offering a wealth of interesting locations and backdrops which Carolyn and Chris agreed would be worthy of a visit. It was on a dry but cold day that we met and walked up to Calton Hill.
First stop was having a few photos taken in front of and on top of the imposing National Monument of Scotland. I used off-camera flash to help illuminate Carolyn and Chris, and to add depth and shape to the image. Off-camera flash also meant that the sky lighting is nicely balanced with the subjects, Carolyn and Chris, ensuring a much more pleasing photo is obtained.
We spent around 90 minutes at various locations on top of Calton Hill. We created a really good and varied selection of photos. Most importantly, Carolyn and Chris have a much better idea of how relaxed and fun having their photos taken will be.
On their wedding day, we will refer back to what we did on Calton Hill, meaning very little time is wasted as we do our photography session!
I'm really looking forward to working with Carolyn and Chris again very soon!
Calton Hill Engagement Photography Session Gallery