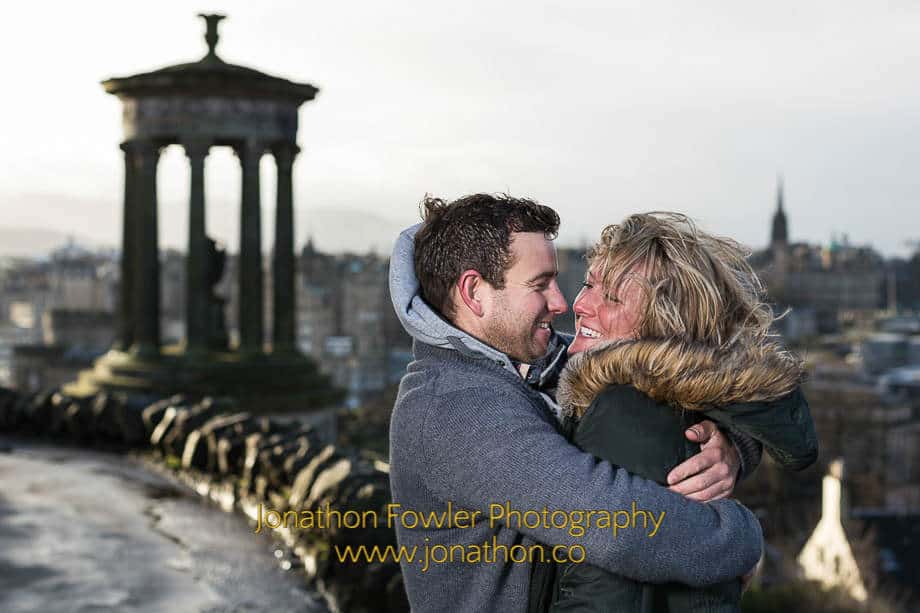 It was a very cold and windy day, just three days before Christmas, when I met Faye and Iain for this Calton Hill engagement photography session.
Faye and Iain had travelled to Scotland from their home in England and did well to brave the freezing conditions for about an hour. A great effort considering how cold it was! By the end of our photography session, we were well and truly freezing!
Calton Hill can be very busy with tourists most days of the year, however, on a day like this, we pretty much had Calton Hill to ourselves.
Calton Hill offers some of the best views of Edinburgh. Standing on the landmark National Monument Of Scotland allows you a 360-degree panoramic view. This place is also great for creating striking photos of Faye and Iain as they cuddled into each other or stood against the imposing pillars of the monument.
I love using the cityscape as a blurred backdrop to my photos, combining the blur with off-camera flash to really make a couple 'pop' on the photos.
I'm looking forward to Faye and Iain's wedding at Shieldhill Castle later this year. Sheildhill Castle is a beautiful Scottish Borders wedding venue which is perfect for a fairytale wedding and a great location for creating gorgeous photos of the newly-weds.
A massive thank you to Faye and Iain for allowing me to create these photos. You were brilliant and no matter what the weather is like at Shieldhill Castle, I know you'll be the perfect couple for creating lots of beautiful photos!
You might also be interested in our free pre-wedding photoshoot special offer, available for free with our top wedding photography package.
Calton Hill Engagement Photography Session Gallery Of Photos
It's my pleasure to be able to share with you a few of my favourite photos from Faye and Iain's Calton Hill photoshoot.