A collection of wedding photos is an incredible investment which you can treasure long into the future. But these shots will just tell part of your love story. A spectacular pre-wedding photo shoot (also known as engagement photos, e-shoot, lifestyle photos, etc.) will provide you with a vivid reminder of those wonderful days which preceded the big day itself – and will serve as an 'opening chapter' to the rest of your adventure together.
Why not get yourself a brilliant pre-wedding photo shoot special offer?
The photo shoot usually costs £350 (reduced to £250 if we photograph your wedding, free if you book our all-day wedding photography Option 1) and provides a wonderful opportunity to experience a photo shoot before your wedding day. Our photoshoot must take place in or around Edinburgh and The Lothians, though the special offer is available to couples getting married anywhere in Scotland (travel expenses may apply for shoots outside of Edinburgh and The Lothians, ask for details). We'll spend up to two hours finding out which poses work for you and perhaps more importantly, which don't.
Directions are provided on how to pose (nothing weird or wacky, we promise!), as well as a varied selection of natural candid shots. This ensures that we make the most of our limited time together on your wedding day. Ideally, our pre-wedding photo shoot will take place no more than a couple of months before your wedding day, ensuring what we learn is still fresh in our memories by the time your big day arrives!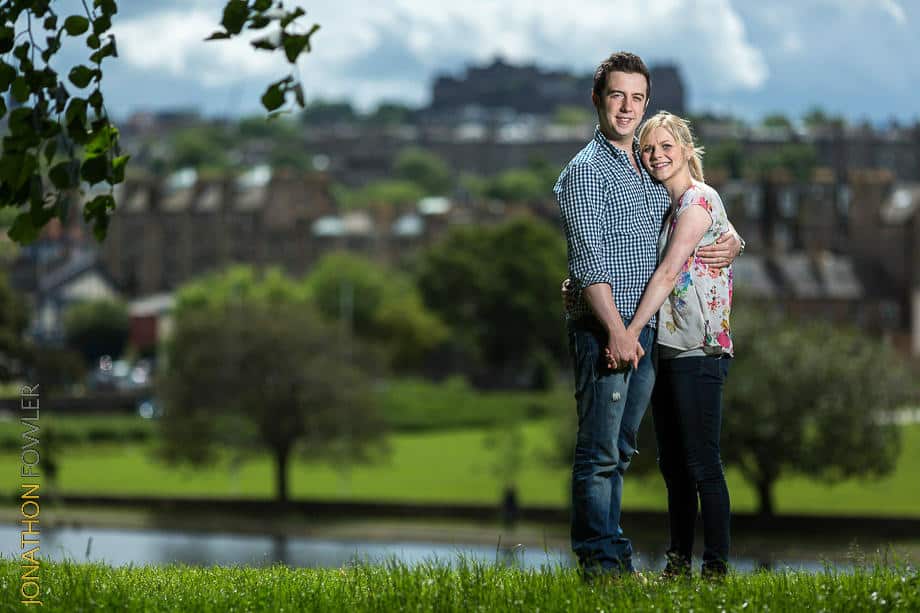 Your engagement photo shoot is fun and you receive a portfolio of gorgeous photos.
* Usual price is £350. Free for a full-day/2 photographer booking. The price is reduced to £250 if taken in conjunction with any other wedding booking.
Pre-wedding Photo Shoot Examples and Locations
Click on the names below to view our blog posts about the many pre-wedding photos we've created for couples throughout Edinburgh and the Lothians since 2006.
Arthur's Seat, Edinburgh
Calton Hill, Edinburgh
Corstorphine Hill, Edinburgh
Cramond, Edinburgh
Gosford Estate, East Lothian
Harlaw Reservoir, Pentland Hills
Inverleith Park, Edinburgh
North Berwick, East Lothian
Princes Street Gardens, Edinburgh
Queen Street Gardens, Edinburgh
Scottish Parliament, Edinburgh
The Shore, Leith
Yellowcraig Beach, East Lothian