I recently had the pleasure of photographing Nick and Michelle's Lothian Chambers wedding. This lovely couple had travelled from the south of England to get married at beautiful Lothian Chambers in Edinburgh city centre.
Lothian Chambers is a popular Edinburgh wedding venue. Conveniently located in Edinburgh's historic Old Town, Lothian Chambers is an impressive wedding venue suitable for small intimate weddings and larger ceremonies, too.
Nick and Michelle's wedding was an intimate celebration with around twenty guests to witness and enjoy their union. I enjoyed the relaxed atmosphere of Nick and Michelle's wedding day. There were a few children at the ceremony, so it's good to let them enjoy themselves. Young children can be restless at weddings, but Nick and Michelle's children were excellent, and I managed to get them to smile for some of the photos!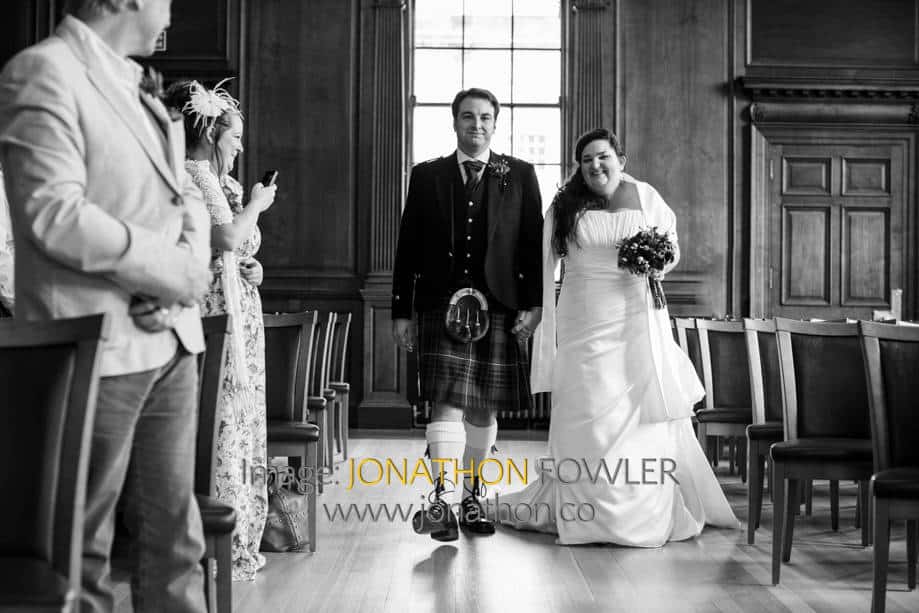 After the wedding ceremony at Lothian Chambers Nick, Michelle and I headed outside to shoot a few photos of the newly-weds first moments together. The architecture around Lothian Chambers is beautiful, with lots of interesting places to use as backdrops for beautiful wedding photos.
The Edinburgh Fringe Festival hadn't quite started, but there was still a real buzz around the Old Town, with many tourists offering congratulations to the newly-weds. We could only walk a few feet before another visitor said hello and congratulations. Great fun and slightly surreal for Nick and Michelle!
Our time together came to an end after a couple of hours. Nick and Michelle were a lovely couple to photograph, nice and relaxed and good fun to be around.
Some of the wedding suppliers who helped to make Nick and Michelle's wedding day so special:
Florist: Narcissus Flower Shop
Hairdresser: Circles Wedding Hair & Makeup
I'd like to share a few of my favourite photos of Nick and Michelle's beautiful wedding day. Enjoy!
Lothian Chambers Wedding