Prepare to be inspired with visions of fairytales and romance, when considering a wedding at Dunglass Estate. Located at Dunglass, Cockburnspath TD13 5XF, Dunglass Estate commands panoramas over the East Coast of Scotland. Dunglass is just a short journey out from Edinburgh. But you could be in another world for the seclusion the Estate brings.
Dunglass Estate themselves aren't wrong in describing themselves as 'a haven for romantics' as this inspirational venue has the wow-factor and leaves its mark.
All weddings at Dunglass include exclusive use of the Estate. You, your guests, and the staff there to cater to your every need will be the only people around. Dunglass is a romantic get-away for sure. As a recommended wedding photographer for Dunglass Estate, we've lots of experience photographing and filming weddings at this beautiful wedding venue in East Lothian. We can highly recommend Dunglass as the perfect marriage venue.
Dunglass House is a highlight in your exclusive use of the Dunglass Estate. Built in the mid-twentieth-century, Dunglass House is on the site of the original mansion. It has been completely renovated in sympathy to its original charm but with all modern comforts. Dunglass House is a luxurious haven within the estate.
Dunglass House has a magnificent sweeping staircase, ideal for showing off a bridal gown in your photographs. The parquet floor of the main hall is another perfect spot for pre-wedding photos as the bridal party congregate ready for the day ahead.
With up to 5 double rooms, a kitchen, drawing room, conservatory and terrace, Dunglass House is a perfect retreat allowing you to make the most of your wedding party stay on the Estate. Relax after the wedding with the traditional piano, or by enjoying a more intimate barbeque with your closest family and friends.
The Laundry Cottage is also available for weddings, situated close to Dunglass Church. Built in the 19th Century, and sleeping 6, The Laundry Cottage makes an ideal place for the Groom and his attendants to get ready for the Big Day. The Laundry Cottage is a little slice of luxury foretelling all the Estate has in store for you. With its original stonework and own secluded garden and decking, it's an ideal spot for reportage photos as the day begins.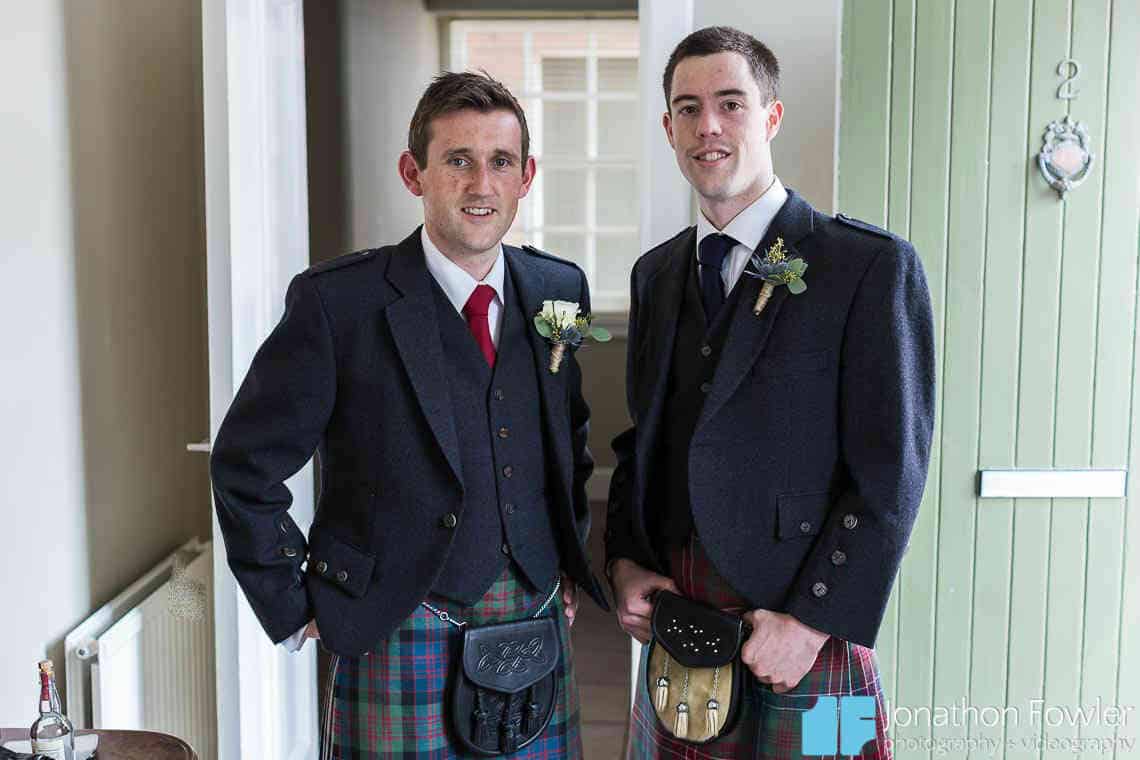 The Stable Cottage offers alternative accommodation on the Estate for a further six guests. With its striking stable arch, there is no doubting the origins of this building – once home to the Estate's carriages, and later motor vehicles. Renovated in 2013, Stable Cottage now offers guests bright and welcoming accommodation.
Dunglass Collegiate Church sits in the heart of the Estate itself and is a remarkable site like nothing else. This half-ruined building originating from the 15th Century has Gothic allure, with arches and stonework that will make you feel a part of history. With opened doorways and windows, this is a semi-outdoor venue yet intimate and secluded.
The beautiful grey stone of Dunglass Church and its gravel floor lends itself to letting your creative flair loose, as you transform this venue into the picture of fairy tales. It is a blank canvas limited only by your imagination. Dramatic or sensual, simple or extravagant, the Dunglass Church can carry off any style.
Photographing ceremonies in Dunglass Church is an absolute treat. Gothic in origin, the semi-ruined nature allows for an abundance of natural light making wedding photographs striking and remarkable.
Dunglass Church is suitable for both civil and religious ceremonies. Guests arrive at the church up the sweeping lawns. Dunglass is an Estate certainly unlike any other wedding venue we've had the pleasure of photographing or filming.
Dunglass Estate Wedding Film Timelapse
The Marquee is a lavish and luxurious affair, sat on the well-manicured lawns not far from Dunglass Church itself. The Marquee has elegant drapes that lend an impressive air to your reception and dining. The Marquee can accommodate up to 100 diners and has a spacious dance floor to celebrate well into the evening.
Surrounding The Marquee are the magnificently lavish and floral gardens. With secret nooks and spring-summer colours in abundance you'll be sure to want to enjoy celebratory drinks on the lawn, weather permitting, and perhaps a game of croquet. They also provide a perfect opportunity to sneak away for some stunning newlywed photos. The lush grounds of the Estate seem to go on for miles, sweeping down towards the cliffs and affording you sea views.
Dunglass is an Estate with a difference. Nothing is too much for the team of wedding staff. From unique touches such as Highland Games, Falconry, Treasure Hunts, Archery or Clay Shooting to horse and carriage bridal transport and candle-lit walkways, you can make your wedding as unique as you are.
Dunglass Estate – Real Weddings
View our Dunglass Estate wedding photographer and videographer blog posts, with lots of examples of wedding photos of Dunglass Estate: