Prepare to be inspired with visions of fairytales and romance, when considering a wedding at Dunglass Estate. Located at Dunglass, Cockburnspath TD13 5XF, Dunglass Estate commands panoramas over the East Coast of Scotland. Dunglass is just a short journey out from Edinburgh. But you could be in another world for the seclusion the Estate brings.
Dunglass Estate themselves aren't wrong in describing themselves as 'a haven for romantics' as this inspirational venue has the wow-factor and leaves its mark.
All weddings at Dunglass include exclusive use of the Estate. You, your guests, and the staff there to cater to your every need will be the only people around. Dunglass is a romantic get-away for sure. As a recommended wedding photographer for Dunglass Estate, we've lots of experience photographing and filming weddings at this beautiful wedding venue in East Lothian. We can highly recommend Dunglass as the perfect marriage venue.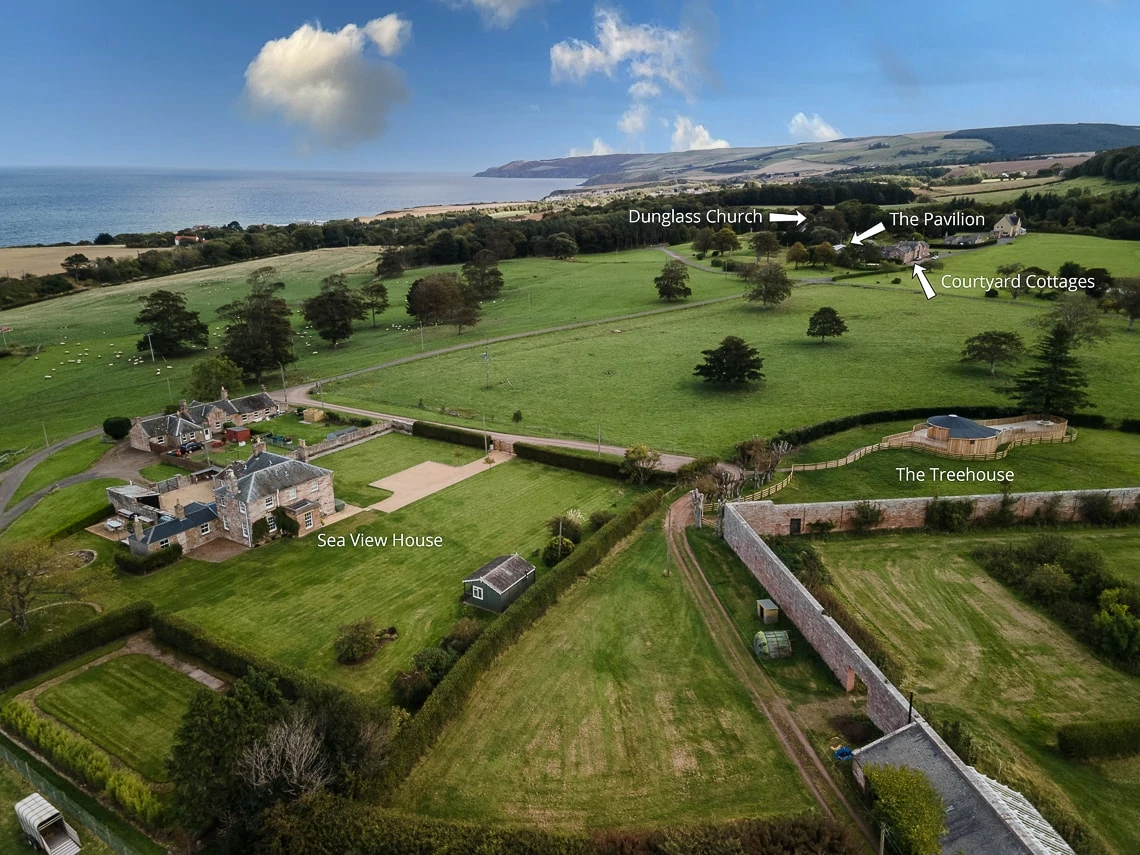 Luxury 5-Star Accommodation At Dunglass Estate
Going above and beyond what many Scottish wedding venues can offer, Dunglass Estate can also include superb accommodation for you, your family and your guests.
Being able to stay at Dunglass Estate the night before your wedding takes the stress out of the buildup to the day and ensures you are comfortable, relaxed and pampered in style.
Sea View House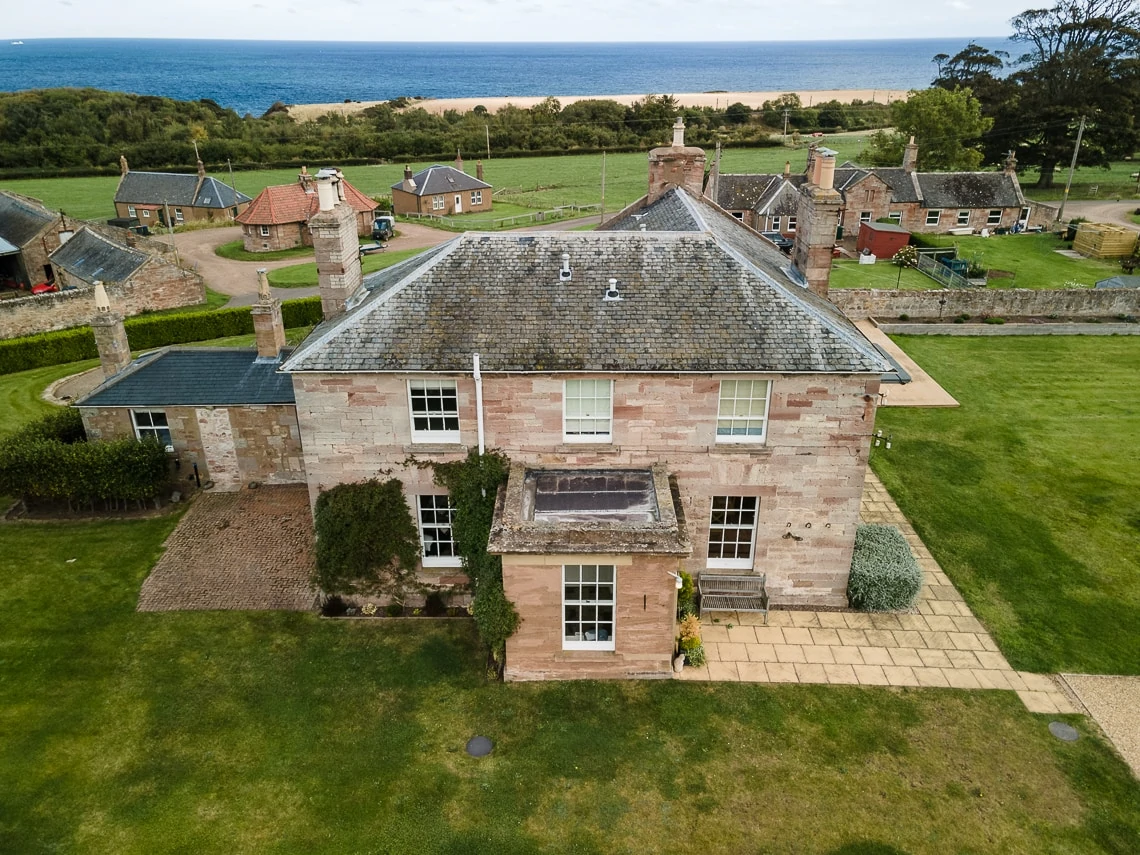 Sea View House is a highlight in your exclusive use of the Dunglass Estate. Built in the 19th century, Sea View House is a luxurious haven within the Estate. It has been completely renovated in sympathy to its original charm but with all modern comforts.
Sea View House sleeps up to 8 guests in comfort and includes a state-of-the-art kitchen, drawing room, living room and bathrooms (including a master bedroom en-suite).
Sea View House is a perfect retreat allowing you to make the most of your wedding party stay on the Estate. Relax after the wedding in the spacious garden, which also includes a fantastic hot tub, or by enjoying a more intimate barbeque with your closest family and friends.
Sea View House Photos
The Tree House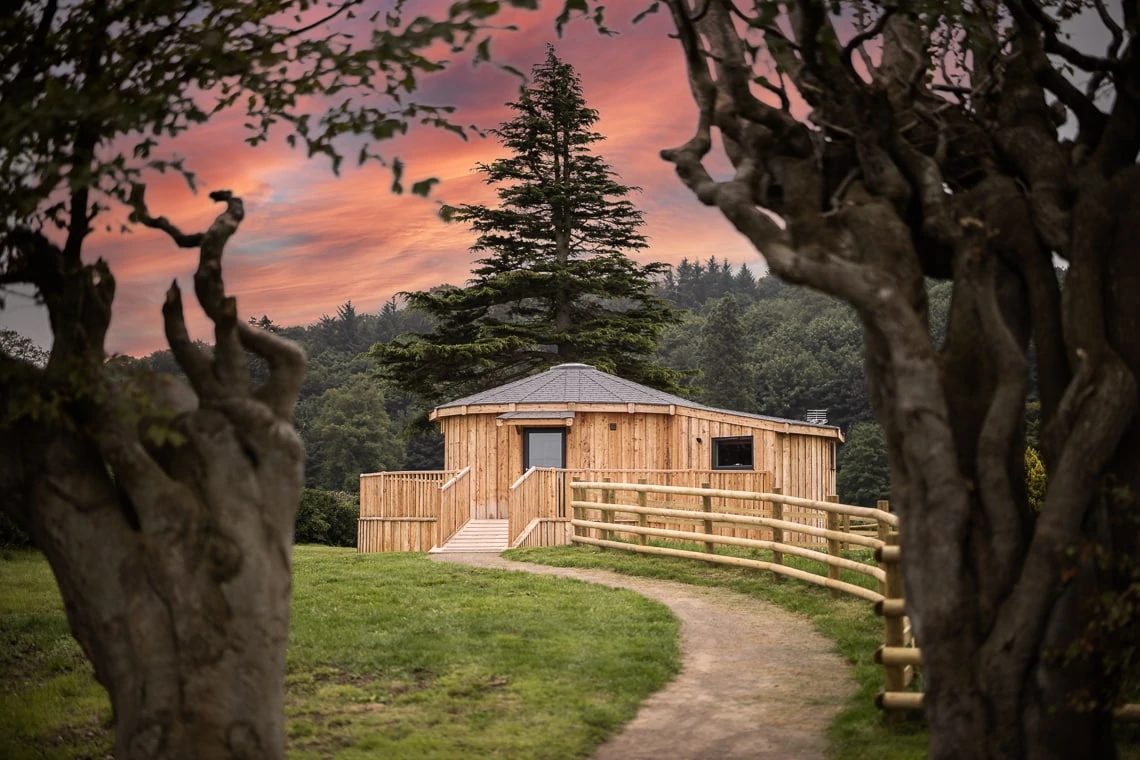 A fantastic and exciting addition to the Estate, the honeymoon Tree House is your private retreat allowing you to relax and celebrate in style.
Enjoy a glass of champagne as you sit back in the spacious hot tub and enjoy the elevated view across the Estate.
The Tree House offers cosy and luxurious accommodation and is sure to be a highlight of your stay at Dunglass Estate.
The Tree House House Photos
Courtyard Cottages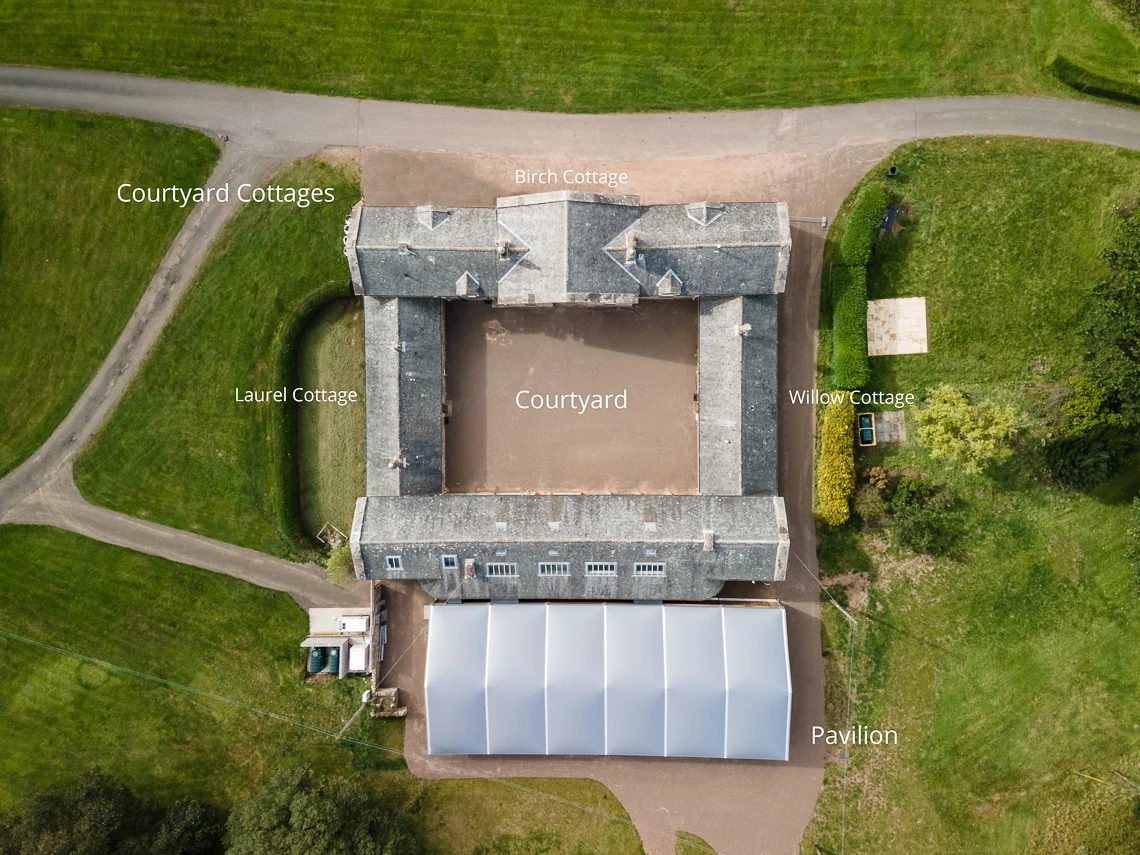 Located right in the heart of the Estate, the three Courtyard Cottages each offer space for six guests in three bedrooms. With its striking stable arch entrance, there is no doubting the origins of this building – once home to the Estate's carriages and later motor vehicles. Tastefully renovated, Laurel, Birch, and Willow Cottages offer guests bright and welcoming accommodation.
Each Cottage is accessed via the central Courtyard and is conveniently only a few steps away from the Pavilion and Dunglass Collegiate Church.
With its original stonework, the Courtyard is an ideal spot for reportage photos as the day begins.
Laurel Cottage
Spacious, comfortable and welcoming, Laurel Cottage offers single-storey accommodation comprising three bedrooms, a dining kitchen, bathroom and living room.
Laurel Cottage Interior Photos
Birch Cottage
Attractive, stylish and comfortable, Birch Cottage offers fantastic accommodation across two floors, comprising a dining kitchen, living room and bathroom on the ground floor, upstairs features the three bedrooms, with beautiful views across the spacious lawn.
Birch Cottage Interior Photos
Willow Cottage
Bright, spacious and comfortable, Willow Cottage offers single-storey accommodation comprising three bedrooms, a dining kitchen, bathroom and living room.
Willow Cottage Interior Photos
Dunglass Church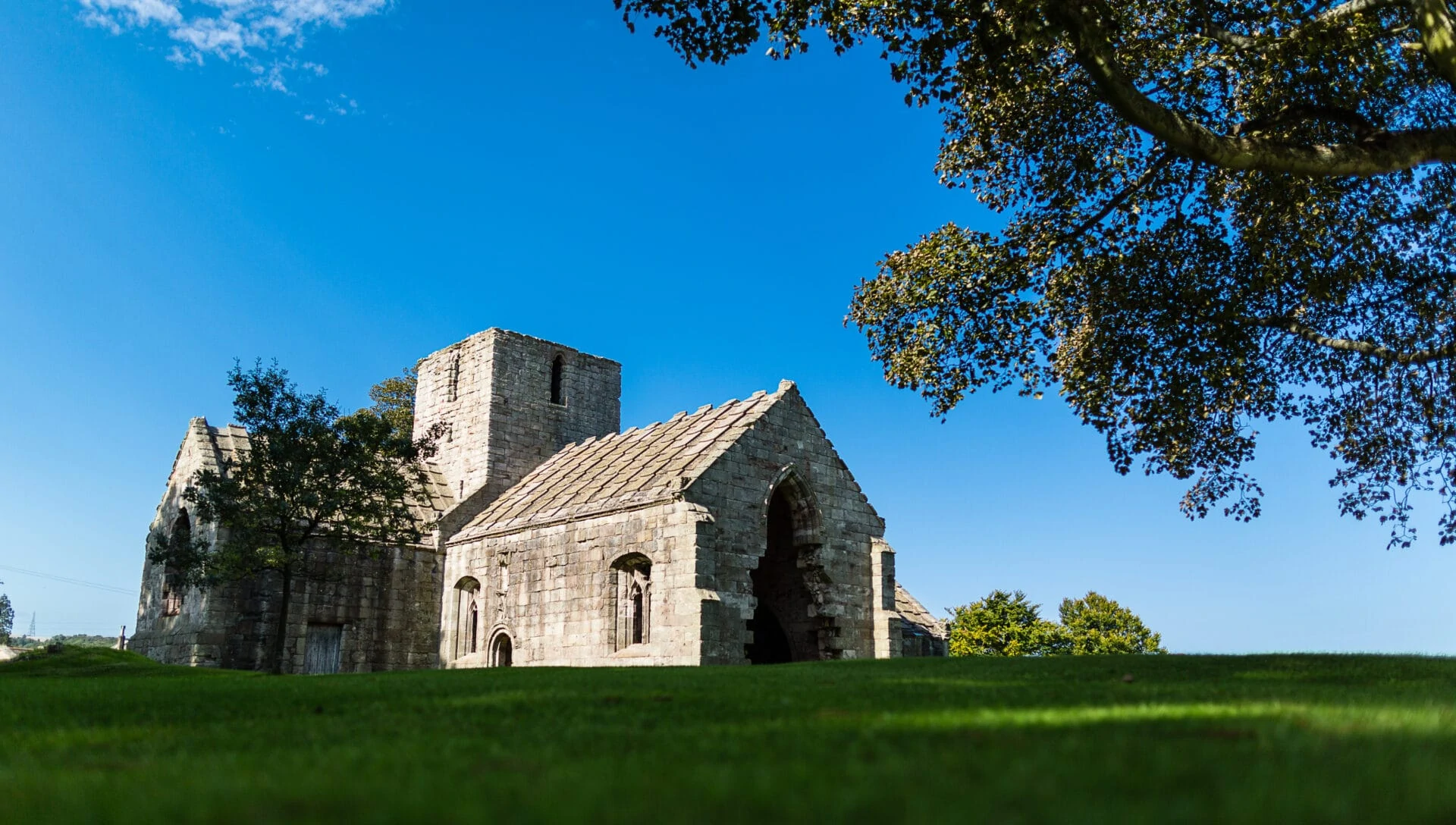 Dunglass Collegiate Church sits in the heart of the estate and is an excellent site like nothing else. This half-ruined building from the 15th century has Gothic allure, with arches and stonework that will make you feel a part of history. With opened doorways and windows, this is a semi-outdoor venue yet intimate and secluded.
The beautiful grey stone of Dunglass Church and its gravel floor lends itself to letting your creative flair loose as you transform this venue into the picture of fairy tales. It is a blank canvas limited only by your imagination. Dramatic or sensual, simple or extravagant, the Dunglass Church can carry off any style.
Photographing ceremonies in Dunglass Church is an absolute treat. Gothic in origin, the semi-ruined nature allows for abundant natural light, making wedding photographs striking and remarkable.
Dunglass Church is suitable for both civil, Humanist and religious ceremonies. Guests arrive at the church up the sweeping lawns.
Dunglass Church Photos
The Pavilion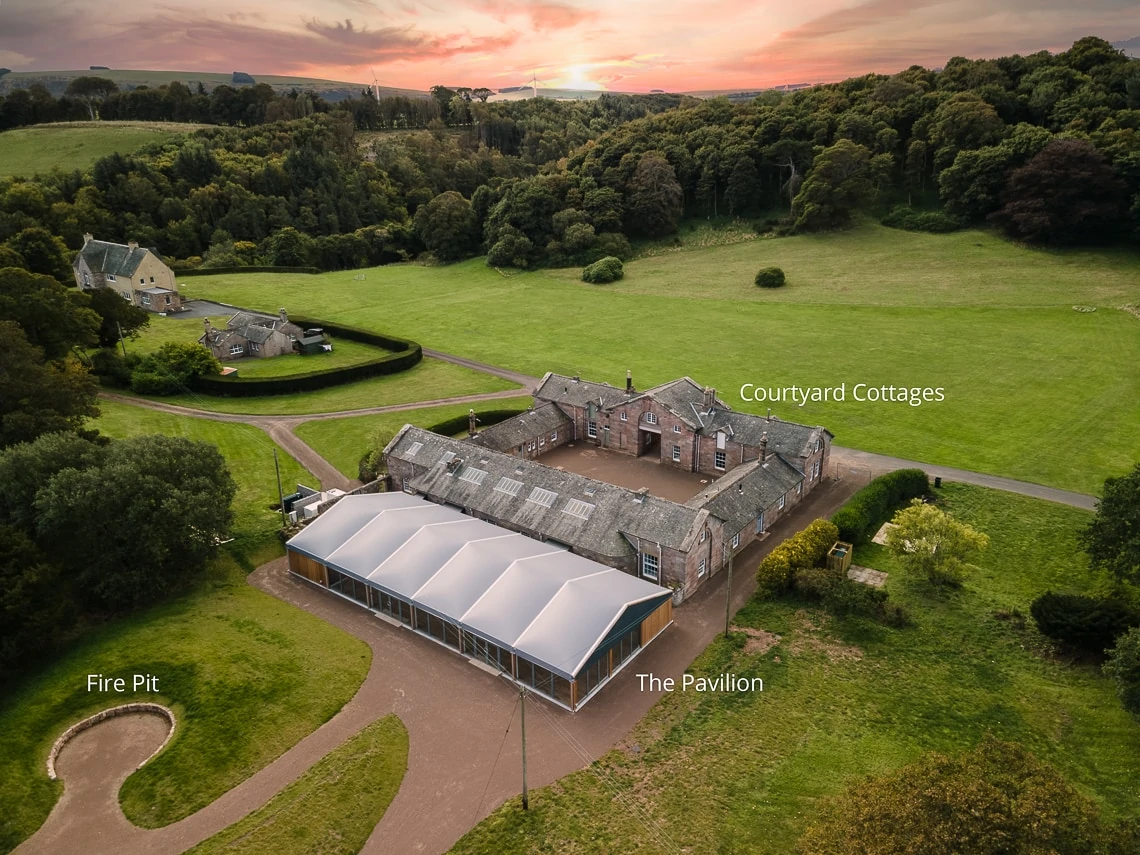 The Pavilion is a lavish affair, newly constructed in 2020 as the new centrepiece of your wedding celebration.
Located just a few seconds from Dunglass Church, The Pavilion offers an impressive air to your reception and dining. The Pavilion can comfortably accommodate up to 150 guests for your wedding breakfast and 200 for the evening reception. The Pavilion is the perfect place to get your party started with a well-stocked bar and spacious dancefloor.
For smaller weddings at Dunglass Estate, take advantage of the Stable Ceremony Room, which can comfortably accommodate up to 80 guests for the wedding breakfast and up to 100 guests for the evening celebration.
The Fire Pit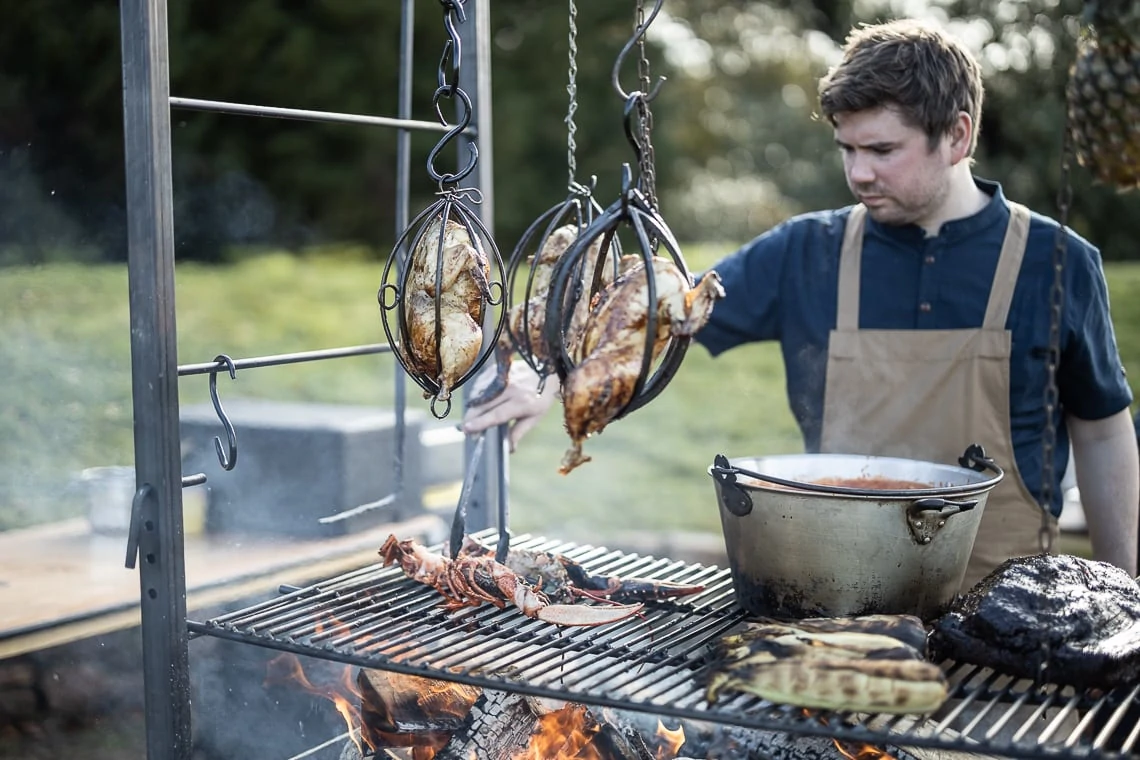 Imagine a beautiful summer evening, sitting back with family and friends and enjoying a sumptuous barbeque feast and a perfectly chilled glass of bubbly or a beer.
The Fire Pit offers a special and unique alternative setting for the laid-back couple looking to enjoy quality post-wedding time with family and friends.
The Lawns and Gardens at Dunglass Estate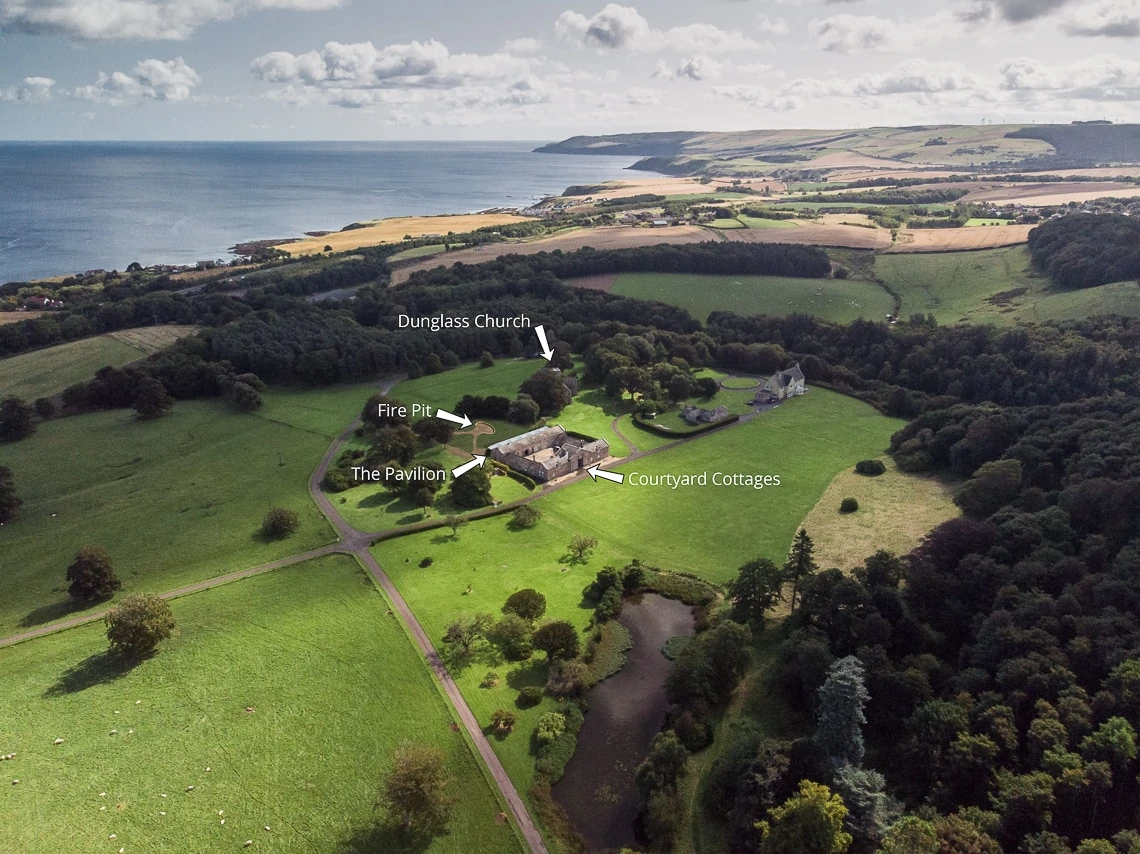 Surrounding The Courtyard Cottages and Pavilion are the magnificently lavish and floral gardens. With secret nooks and spring-summer colours in abundance, you'll be sure to want to enjoy celebratory drinks on the lawn.
The gardens also provide a perfect opportunity to sneak away for some stunning newlywed photos. The lush grounds of the Estate seem to go on for miles, sweeping down towards the cliffs and affording you sea views. A favourite spot for newlywed photos is the nearby pond as an alternative backdrop.
Experienced Photographers and Videographers at Dunglass Estate
We've photographed and filmed almost thirty weddings at Dunglass Estate, please do get in touch with us if you are getting married at Dunglass Estate; we would love to work with you!
Dunglass Estate – Real Weddings
View our Dunglass Estate wedding photographer and videographer blog posts, with lots of examples of wedding photos of Dunglass Estate:
Dunglass Estate Photographer and Videographer Frequently Asked Questions
How soon should I book a wedding photographer or videographer for my wedding at Dunglass Estate?
We advise getting in touch with us as soon as possible. Our diary has bookings up to three years ahead, with bank holidays and weekends being the most popular dates to get booked. Contact us as soon as you have chosen your wedding day and check our availability.
How is the Dunglass wedding photographer price calculated?
Our wedding photographer prices are really straightforward. Choose Jonathon working alone or both Jonathon and Claire working together. We can cater for small weddings with as little as one hour of coverage, up to full-day coverage, beginning with pre-ceremony preparations in the morning through to the evening dancing and fireworks. Get in touch with your details, to discuss your requirements and check availability.
How much does a Dunglass Estate wedding photographer cost?
Our Dunglass Estate wedding photographer prices start at just £600. The price varies based on full or half-day coverage and the number of photographers. Our prices for photography at Dunglass Estate can be viewed right here on our website.
Explain why I should consider you as my photographer.
Since 2006 we have been honoured to photograph and film 500 weddings across Scotland, with everything from very simple elopements to multi-day Asian weddings. We are one of the highest-rated photographers on Google. Our years of experience and outstanding customer service resulted in being awarded Best Photographer in Scotland South East at the 2020 Scottish Wedding Awards. We also consider it an honour to be an approved photographer at many of Edinburgh and Scotland's best venues, including being a recommended photographer at fabulous Dunglass Estate. We're humbled to be trusted by fellow professionals to work at these prestigious venues.
Are you insured, and what does the insurance cover?
We certainly are! Our comprehensive insurance includes public liability, professional indemnity, and equipment insurance. We also have separate drone insurance. You should consider taking out comprehensive wedding insurance. It doesn't cost much in the big scheme of getting married and can cover you for most mishaps.
Is it better to have two photographers?
If you value the total coverage of your wedding day, then yes, two photographers are better than one. Simply put, a single photographer cannot be in two places simultaneously. For our typical pre-ceremony coverage at Dunglass Estate, Jonathon can be photographing the groom getting ready in the cottages while Claire is photographing her bridal party preparations in Sea View House, Jonathon can photograph the boys getting ready at the cottages. For those once-in-a-lifetime photo opportunities, two photographers offer the best coverage; during your ceremony in Dunglass Church, Claire can photograph your family and guest's reactions while Jonathon captures your first kiss as newlyweds. Claire can photograph candid shots of your family and guests enjoying the champagne reception while Jonathon takes care of the newlywed photos around Dunglass Estate. Two photographers aren't mandatory or always necessary. However, for the best coverage, we recommend our two photographer wedding packages.
How do we receive the photos?
You receive your photos via two delivery methods. The first is via digital download, where you can download your photos and save them to any device. You can even share the download with family and friends. The second delivery method is via our private and secure online gallery. We stopped supplying photos on DVDs, CDs and USB because these are not as convenient. Our delivery is instant and can be shared with anyone you choose as often as you wish. No waiting for the post. No sharing the same CD, DVD or USB drive then waiting for it to be returned to you. And so many devices no longer have a USB port or CD/DVD drive that these formats quickly become obsolete. We keep your downland link active for a minimum of one year, and your gallery is kept active indefinitely, providing you with a reliable backup of your photos at no extra cost for you. Your web gallery is great; you can also order fantastic prints and wall art of your photos directly from the gallery.
How long after my wedding until I receive my photos?
Delivery times can vary from a few days to several weeks, depending on what time of year you get married. After your wedding day, we'll keep you updated with the editing schedule and as soon as your photos are ready to view, we'll email you the login details.
Can you provide me with any additional information about your services?
Check out the info on our extensive guide to hiring a photographer. Spare a few minutes to view our wedding photo gallery for hundreds of our wedding photos of real couples.